Do You Speak Digital?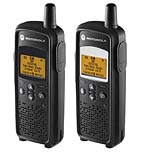 Motorola has introduced the DTR Series digital on-site two-way radios. Delivering the benefits of advanced digital technology to a wide array of security personnel, the DTR Series enables immediate response to any situation and offers unique new communication options including digital one-to-one calling, as well as digital private one-to-many calling. The radios are tested to military standards and operate without monthly fees, service contracts or per-minute charges.


I want to hear from you. Tell me how we can improve.