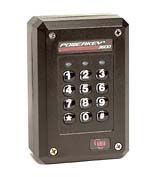 Traditional and new age security firms are blending time-honored access equipment with leading-edge technologies including wireless to protect vehicles and equipment at sprawling and sometimes remote utilities as well as provide security and return on investment for firms with fleets of trucks, cars and forklifts.

One example, according to end users such as Brent Parent of Total Fleet Solutions, comes from International Electronics Inc. of Canton, Mass., and its PowerKey fleet management systems.
The system includes a keypad and LCD backlit display and onboard vehicle radio for wireless data transfer to a base station radio or through a local or wide area network. The design, platformed on a dedicated base station personal computer, can include an impact monitor for shock sensing as well as added proximity reader.
For a decade, Parent's Hollard, Oh.-based firm tracked Total Fleet Solutions, tracked vehicle and driver information manually. "We had a clipboard on every forklift," he said. The new system aims at the core of Parent's business: reducing administration costs and workload time. It works with companies that outsource lift truck and materials handling needs.



PowerKey now provides a diversity of cost and safety services. As a way to gain access to the vehicle, an operator enters information into the keypad affixed to it. Some designs also call for use of a prox card. Following data displayed locally, the operator can follow a paperless OSHA compliance checklist with customizable reports generated remotely. The approach also boasts computerized, scheduled maintenance based on actual run-time hours and not guesswork. "You know what drivers are on what forklifts at any time," said Parent. "And you know about collisions through use of the impact monitor."
Another PowerKey user, Iron Ore Company of Canada, uses the system to control and monitor access to Ford pick up trucks that are used at their iron ore mining site and processing plants in Labrador City, Newfoundland. The PowerKey provides entry-level vehicle management for mobile assets requiring individual PIN control such as material handling equipment, pickup trucks, golf cart fleets, people carriers, and airport tarmac tugs.


Sidebar: What About Tools, Cargo?
Jobsite theft. Vandalism of utility facilities. Cargo tampering. These threats and more are today being matched with unique security solutions.
The maker of power tools, DeWalt of Towson, Md., for instance, now is selling SiteLock, a portable, wireless alarm system to monitor numerous pieces of equipment or areas simultaneously. SiteLock features a portable base unit and five wireless sensors. Through the base unit, stationed in an indoor location (most often a jobsite trailer), the remote sensors can be programmed individually to monitor key assets and areas. If an intruder tries to enter a secured area, disturb a piece of protected equipment or remove a sensor, the alarm activates and a signal is sent via wireless technology to a monitoring service.
Earlier this year, RF Code, Inc. of Mesa, Ariz., and Avery Dennison Corporation of Pasadena, Calif., demonstrated Secure Strap security monitoring and electronic seal technology. The product leverages RF Code's TAVIS data management platform, active RFID technology and Avery Dennison's tamper sensor. The Secure Strap tags contain electronic seal technology for tamper monitoring, tracking and locating of containers and other physical assets. Secure Strap consists of a radio lock (an active RFID real-time locating device) that is attached to a fiber-optic tamper sensor cable. If the cable is compromised in any manner, Secure Strap will send out a radio distress signal indicating its identification code and a tamper indication signal. An encrypted reset key will allow reuse of the radio lock component of the Secure Strap system.