Beware of Security Papers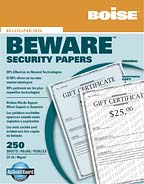 Document Security Systems Inc., Rochester, N.Y., has partnered with Boise Paper, Bensenville, Ill., to launch Boise BEWARE' - the newest generation of anti-copy, anti-scan safety paper that is 99-percent effective with the latest desktop scanners and digital copiers. Utilizing the company's Authentiguard' Pantograph 4000 technology, the papers feature hidden words or images that appear when a document is scanned, copied or faxed, to ensure authenticity.


I want to hear from you. Tell me how we can improve.