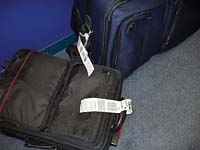 An assortment of emerging technologies, including radio frequency identification, three-dimensional imaging and video content analysis, will soon bring better protection to facilities ranging from airports to parking garages as security gets more personal.
One example: just weeks ago, McCarran International Airport in Las Vegas agreed to implement a UHF radio frequency identification (RFID) smart tag system to automatically track all passenger bags through the airport's inline explosive detection and screening equipment.
Matrics Inc., of Columbia, Md., will supply the RFID tags for use in tracking passenger bags as part of the airport's ongoing commitment to improving customer safety and satisfaction.
RFID tags can support the Transportation Security Administration's (TSA) objective to screen all passenger baggage. "This becomes a win for all concerned: the traveler, the airport, the TSA and the airline," says Randall Walker, director of aviation at McCarran International Airport. "It reduces the incidence of lost or mishandled bags while ensuring screened bags are delivered to the right place at the right time."
FKI Logistex, Danville, Ky., will provide the system architecture and integration. The new, automated system will provide McCarran with end-to-end baggage visibility. Airline staff will print and attach RFID tags at the ticket counter or curbside. Each tag carries a unique identifier and will be read while it is being transported on conveyors to route them to the appropriate screening machines and then to the specific plane for flight.


RFID Links People, Bags
Matrics plans to supply nearly 100 million passive, non-battery UHF disposable tags. The company feels that future applications using the same platform can include passenger boarding passes, carry-on items, vehicle parking, traveler loyalty and air cargo, to name a few.
In another airport security breakthrough, SECURITY magazine has learned that giant DuPont Company will soon significantly enlarge its involvement in the security identification card and badge business thanks to a partnership that prints three-dimensional photographs to documents ranging from driver's licenses to passports.
A subsidiary of DuPont, DuPont Authentication Systems of Bridgeport, Conn., is using a patented video system and software from A4Vision, Cupertino, Calif., which creates 3-D images beyond typical photo IDs. A person's portrait, for instance, will appear to pivot a bit, showing a right and left profile. A4Vision also contends that there are more realistic textures in images of some facial features, such as hair and skin.
DuPont's involvement centers on its holographic film.
In yet another application, the city of Yonkers, N.Y., has combined behavior recognition technology with video surveillance to protect two public parking garages.


System IDs Behavior
The technology comes from St. Louis-based Cernium Inc. It has installed Perceptrak security technology in the first of two of the garages. The behavior recognition technology, selected by the Yonkers Parking Authority and the Yonkers Downtown/Waterfront Business Improvement District (BID), will enhance an existing video security system.
Perceptrak proprietary software integrates with security video systems to provide real-time behavior recognition and content analysis. The product analyzes live events monitored by the video cameras and identifies potentially dangerous or suspicious human behaviors, incidents or objects. The system alarms security staff at the moment the event is occurring.
Mike Dalton, assistant executive director for the Yonkers Parking Authority, says that the behavior recognition system "helps our security team to proactively monitor the city's two parking garages…for a measurable increase of safety and security for our residents and guests." BID Executive Director Ian Kipp adds, "It was the best choice for the increased security needs at our new parking facilities. The city of Yonkers has made great progress in its security preparedness."
The first Yonkers installation is a 40-camera system in a new 615-space Buena Vista Parking Facility in the city's downtown that just opened last October. The second is a planned 32-camera system in the Government Center garage.
On a twist of RFID, a security system aims to detect, track and manage food safety threats across the supply chain. Combining Web-based global positioning and RFID biosensors, the system from GTR of Starkville, Miss., provides early detection of disease, food borne pathogens and contamination. The security design responds to mandates of the Bioterrorism Preparedness and Response Act of 2002 and the Country of Origin Labeling Act. It tracks food from the point of origin throughout the production and distribution channel, ending with the consumer's table. The system catalogs products at various points along the supply chain, including farm, ranch, processing plants, transport vehicles, storage facilities, supermarkets and restaurants. If an incident of contamination is reported in the supply chain, information on the origin and destination of dangerous product is automatically located.
Finally, RFID is coming to a self-service dispenser near you. With TagTeller from Dallas-based TransCore, tag-dispensing kiosks will let customers, tenants or employees receive, purchase or add value to pre-paid tags using existing banking networks or through cash, credit card and debit card payments. TransCore even envisions a unique way of handling business travelers as well as toll violations. TransCore's Amtech technology is a thin windshield sticker tag for toll collection, access control and other applications.