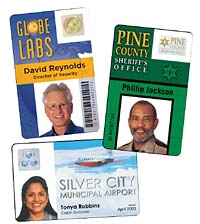 How do you bring higher quality identification cards to more smaller organizations? Use inkjet printers, that's how.
There are specialty printers for large volume bankcards, for example. There are high-volume thermal printers. Now identification card printer makers are adding popular inkjet printers to the mix.
For example, Joe Wright, director of product marketing for hardware at Fargo Electronics, Eden Prairie, Minn., reports that his firm has worked with Hewlett-Packard, the printer maker, to transform a desktop printer into a central card-issuance printer. The line has card cartridges to handle either 50 or 100 blank cards for printing.


ID and Loyalty Cards
The customer aim of the inkjet printer hardware approach," says Wright, "includes small companies as well as smaller membership or employee databases and remote facilities. They look for portable solutions that are easy to use and equipment that does not need much training. These systems have cartridge loading for cards and inkjet cartridges, too."
The firm's CardJet 410 inkjet card printer/encoder, for instance, can print on plastic cards with highly specialized thermal inkjet technology. An optional magnetic stripe (high coercivity only) encoding unit can be factory installed or upgraded in the field either by a technical end user or the ID card printer dealer. Fargo's Wright also sees the printer as a step up from cut-and-paste approaches. "Why mess with labor-intensive, cut-and-paste systems?"
Down the road, Wright believes proximity card encoding will be a next step in the development of inkjet ID card printers. Earlier this year, Fargo introduced its inkjet ID card printers at the National Association of Secondary School Principals convention.
In another application aimed at educational institutions, the director of security for Rochester, N.Y.-based St. John Fisher College sees the speed of the creation of cards a very important feature.


Need Speedy Output
"We employ magnetic stripe badges for our students, faculty, alumni and vendors," reports Mike McCarthy, the college's director of security. "The biggest reason we selected the Eltron printer from Zebra Eltron, Camarillo, Calif., was to cut down on printing time. At orientation, when the students are lined up out the door, we've substantially reduced the amount of time it takes to produce a badge. Printing time has dropped from 3 to 3 1/2 minutes to less than one minute with the Eltron printer."
According to McCarthy, badges are used by all students, including the 1,200 on-campus students for access to their residence halls, which are locked down 24/7, as well as the College's computer rooms, which are locked after hours. Faculty, staff and students also use their badges in the meal program, and students check out books at the library with their badges.
Also, each summer, the campus becomes the training grounds for the NFL's Buffalo Bills football squad. Although the Bills already have their own ID cards, St. John Fisher College prints up new badges, with special colors and codes, for those authorized to access restricted areas such as the team's locker rooms, workout rooms and residences.
"Our primary goal was to help Fisher badge all students and staff while assuring that the magnetic stripe badging system would interface with the College's IDenticard, Lancaster, Penn., access control system," relates Terry Rivet of Securitronics, Rochester, the system integrator. "We also needed to assure the printer would provide good quality images quickly and be able to handle high-traffic, high-volume output. Often, many badges need to be printed at once. Also, the printer needs to be used almost every day, so it needed to be reliable."
Eltron's P420 dual-sided color printer encodes magnetic stripe cards and prints ID photographs, graphics and text edge-to-edge in seconds. A reject hopper separates cards that fail encoding prior to printing.
The enclosure includes a viewing window to monitor the printing process without opening the unit. The P420 printer ribbon synchronizes automatically, eliminating the need for operator intervention. A self-cleaning cartridge thoroughly removes dust before printing, eliminating card rejects due to dust contamination.


Compact, Light-weight Units
The footprint of the ID card printer also is an important element.
A combination printer and laminator from TEAMNisca of Somerset, N.J., is comprised of a PR5300 ID card printer and a PR5302 modular lamination unit that requires no tools to attach to the printer.
The small footprint – 16.5 inches by 17.5 inches by 11.8 inches – and the lightweight – 28-pound printer and 22-pound laminator – is aimed at operations with limited desktop space or the need to ship the system around to remote offices for card creation.
Among features: dual-sided and high-speed printing and lamination. There is optional alternating patch lamination with two different patches on one roll of material.
For more ID and other product info, visit www.securitymagazine.com. Look for an upcoming SECURITY SPECXpress on ID card printers.