Shredder Produces Smallest Particles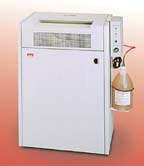 The Model 266 from Security Engineered Machinery is a maximum security, high volume shredder that meets NSA/CSS specifications. The oversized 133/4-inch feed opening accepts up to 16 sheets of paper, which the cross-cutting shredder head reduces to particles no larger than 0.7 mm x 4.2 mm. The unit starts shredding automatically as paper is fed and stops automatically when the shredding cycle is complete.


I want to hear from you. Tell me how we can improve.