I can describe three trends in just six words: higher visibility, more openness and convergence. Presidents and chief executive officers of the most influential businesses better know their security operation, its return on investment and the real need to have professional security using appropriate technology.
One indication talked about on the ASIS exhibit floor – the Washington, D.C.-based Business Roundtable's deep and growing commitment to security with the naming of Frederick W. Smith, chairman, president and CEO of FedEx Corp. as chairman of the Roundtable's Security Task Force.
"Companies are better prepared for a terrorist attack today than ever before because CEOs have stepped up to this challenge and made security a top priority in the three years since 9/11," Smith said. "But improving homeland security is an unending journey, and our members remain committed to strengthening both physical and cyber security to protect our employees, customers and facilities."
The Security Task Force addresses ways that the private and public sectors partner to improve security. It's created a Crisis Communications Toolkit that offers best practices for communicating with employees, customers and neighbors during a crisis; has issued a white paper – Terrorism: Real threats. Real costs. Joint Solutions. – that promotes a collaborative approach to security regulation; and is developing a risk assessment toolkit.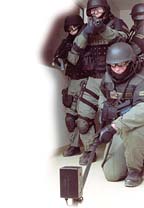 Business Roundtable (http://www.businessround-table.org) is an association of chief executive officers of leading corporations with a combined workforce of more than 10 million employees in the United States and $4 trillion in annual revenues.
Openness was another trend playing out at ASIS, although there continues to be debates about what it really means. Some exhibitors believe interoperability is a more appropriate goal.
It's a view shared by the Open Security Exchange (OSE) of Piscataway, N.J. It's a cross-industry forum dedicated to delivering best practices guidelines in the area of security management and vendor-neutral interoperability specifications for physical and cyber security systems.
The organization has already issued the first of its kind technical specifications for the convergence of physical and cyber security systems, named PHYSBITS. As a result of this effort, the Exchange has actively participated in the launch of the standards committee of the Security Industry Association for data modeling. In addition, the Open Security Exchange has issued a technical white paper designed to help organizations with the adoption and issuance of strong credentials for their physical and IT systems. Check the Web site http://www.opensecurityexchange.org/resources.html.
Convergence continues to be a hot topic, especially to those end users seeing physical and logical security come together. An important event early next year is the Corporate Security Roundtable. Check details in this month's Industry Events column.
Another way that convergence was measured on the ASIS exhibit floor was how technologies and equipment are blurring the line between private security and public safety.
For example, a number of firms now are marketing tactical surveillance to corporate security even though they were originally developed or aimed at law enforcement and military. A case in point: infrared and thermal camera systems so that security officers can look under vehicles and through walls and shells. Also at ASIS: detection systems from firms as diverse as L-3 Communications and GE Infrastructure Security and originally developed for airports; they are now being marketing for corporate and building entrances and mailrooms.