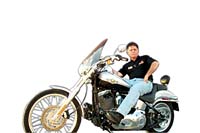 Sometimes, there is nothing better than gliding down an empty road on a hog, the wind rushing past you and life's worries just another blur. It doesn't matter where you go, getting there is the pleasure.
And anyone who rides a Harley knows the mantra. You don't buy a Harley, you buy a new lifestyle. It's a lifestyle, they say, where people have that magnetic bond among Harley owners, regardless of status or income. It's where these folks always feel compelled to pass through the doors of every Harley store, even if it's just to swap travel stories with the staff.
Such a unique pull has customers and passers-by dropping into the Mackie Harley-Davidson Buell dealership off Highway 401 in Oshawa, Ontario, one of the busiest highways in Canada, at all hours.
The entire front of the two-story building and 30 feet down the side is all glass and well-lit," says Terry Nodwell, store manager. People constantly drop in, even at 3 a.m., just to look.
The store's owners, Paul, Ross, Norman, Dean and Scott Mackie, had a love for motorcycles long before their 2003 grand opening. But even with four generations of experience in the transportation industry under their belt, building the 22,000-square feet dealership during Harley-Davidson's 100th celebration this year was their first venture into retail.
One major concern was taking on the challenge of protecting such high-end merchandise. The motorcycles range in price from $6,700 C ($5,194 USD) to $45,000 C ($34,884 USD). Harley-Davidson brand clothing tops out at $1,200 C ($930 USD) for a leather jacket; and accessories range from under $10 C ($7.75 USD) to $9,900 C ($7,674 USD) for a custom paint kit, of which there are only fifty in the world.
Fortunately, there are definite advantages in working with new construction.
Foremost, it afforded them the opportunity to be proactive with regards to building security from the blueprints to final installation. With good planning and design, they capitalized on that opportunity, installing not only the rough electrical cabling to serve their immediate needs, but installing additional cables for potential structural changes down the line, such as moving walls, shelving or hanging units.
After all, how much could one save by installing a few extra cable runs in a skeleton of a building, compared to the cost of an expensive retrofit when additional cameras are needed or a store's displays are rearranged and now block existing camera views.
Paul Mackie, who runs the store, and Nodwell contacted Guy Viggers, president of KSC Security Systems of Canada in Whitby, Ontario, for a solution.
"I asked Guy to tell me where any possible camera could be placed to view the entire volume of the interior and exterior of the building," Nodwell says. Then we designed the absolute minimum, and added enough extra cameras for good business practice. We also have enough extra cable so we can easily double our cameras inside and add additional ones outside.
The security technicians ran RG59 and 18/2 Siamese cable to all camera locations, with a centralized power supply to provide increased security and consistent performance.
Another advantage of the new construction was that the store is a standalone facility, and not part of a strip mall. This gave the owners the sole decision-making capability on an independent level. The facility was positioned on the property to allow optimum open areas, lighting and visibility from two other Mackie-owned buildings.
Based on an incident at another facility, in which an individual moved across the span of the camera before his movement could trigger the camera, the management realized a need for 24/7 recording.
They also insisted on all color cameras, Nodwell comments. The first question the police ask is what was the color of the clothes and car? So we installed all color cameras.
Viggers outfitted the store with Silent Witness, Surrey, Canada, dome cameras and exit view height strip cameras to provide top-end loss prevention measures. The cameras' images are recorded on Chantilly, Va.-based Dedicated Micros BX2 one terabyte digital video multiplexing recorder (DVMR), which internally stores up to three months of digital images.
"Both cameras and the DVMR happened to match the signature colors of the motorcycle manufacturer," Viggers says, which was a selling feature. The look with Harley-Davidson is very important.
The DVMR, though, had to do more than just look the part. Nodwell wanted a long recording time, since they were recording 24/7, and they wanted to be able to zero in on high-ticket items.
The system also had to be user friendly. Part of the challenge, Viggers observes, was to find a system that anyone could learn to use, regardless of how computer literate they were.
"The strength of the system is our ability to review, copy and watermark the image," Nodwell says. And, the online network viewer gives us a virtual guard on site.
The recorder allows staff to isolate small segments of the screen for movement. This permits them to see when a product has been moved, which helps them manage security and inventory replacement.
KSC Security Systems also installed an Ademco, Syosset, N.Y., 20P alarm system, which is partitioned to allow authorized staff to access certain areas of the building, such as after-hours in the service department, without affecting the alarm. The system works independently of the video surveillance system (as the surveillance is recorded at all times), as opposed to an event- or motion-driven alarm.
Additionally, door contacts, motion sensors, glass breaks and security film on every window all help to prevent illegal entry at the store, and many products are outfitted with multiple visible and hidden security tags.
The store has experienced a perfect security record so far, unless you count the three incidents in which a rotating sign, an oscillating fan and some signage that fell after hours each tripped the security system's motion detectors.
"The store is cognizant of everyone in the building," Viggers says. Each time I'm there, the employees query me as to what I'm doing there. You can't move around in the store without having your picture taken. That's a tremendous deterrent. They spent some major money putting in the best equipment on the market today in order to stop theft, but they got high-quality products at a reasonable cost.
For the future, the store management and owners intend to install the BX2's remote network viewer in their homes, so they can avoid any chance of false alarms.
After all, when you are riding into the sunset on your black and chrome stallion, do you want to have to think about security?


SIDEBAR 1: 100th Anniversary Patrols
Law enforcement from various states and federal agencies was part of the festivities in Milwaukee, this summer when Harley-Davidson motorcycle owners took part in the manufacturer's 100th anniversary.
Being prized possessions, Harley-Davidson motorcycles are also sought after by thieves. There also is a strong traffic in stolen Harley bike parts.
At the same time, law enforcement assembled a task force and special equipment to detect and handle chemical, biological and radiological threats, because of the high numbers of people attending the anniversary events and the high profile of the celebration.
According to Milwaukee County Sheriff's personnel, about seven stolen cycles were recovered. One incident went back to the mid-1990s. The current owner, not involved in the original theft, was allowed to keep his bike, however, because the first owner had already been compensated for the loss by his insurance company.
Three investigators from the National Insurance Crime Bureau were also on hand in Milwaukee to check their database against Harley parts' registration.