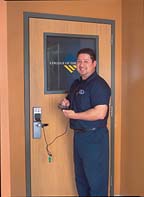 Keeping track of keys and rekeying when necessary are real pains in the lock for many facilities. That's especially true for colleges, universities and schools. But one southern California college solved the challenge by installing computer-managed stand-alone locking systems at many of its doors.
The Santa Clarita Community College District, just north of Los Angeles, is one of the fastest growing community colleges in California and under almost constant construction to keep up with its increasing student population. Already, the College of the Canyons, situated on 153 acres, has more than 8,500 students.


Time to Rethink
According to Ray Briones, an eight-year veteran of the College's maintenance department, "Three years ago, we were faced with a decision. We hadn't been rekeyed for quite some time and, to make matters worse, we hadn't been very good at keeping track of our keys. The College was experiencing rapid growth and wanted to increase its security levels.
"By using computer-managed [CM] locks, we knew we could save money down the road in time and expense of rekeying every door on campus when someone walked off or lost their keys. We were right. Today, I simply reprogram a lock with my PDA by deleting the lost credentials and reissuing a new credential."
CM stand-alone locking systems, averaging around $1,000 per door including installation costs, are the new workhorses for colleges and universities. They provide features found previously only with online, networked systems. Whatever the credential used, intuitive user-friendly software programs all – the locks, access trim, strikes and magnets – from a laptop or PDA. New users, access points and access privileges can be entered into the system in seconds.


Creativity at Play
With such CM locking systems, security professionals can become very creative. Systems, such as the "Locknetics on Board" CM products line of Schlage CM locks, Von Duprin CM993 exit trim and devices, Locknetics universal controllers and Recognition Systems biometric hand geometry readers facilitate simplified, uniform access control administration. Multiple openings in a facility can be managed with a variety of stand-alone locking systems that share common software.
Without hardwiring, users have the benefits of a networked system without the costs involved. Access and profile management is greatly improved without adding any extra software.
Briones has over 400 Schlage CM unit locks, each installed along with CM exit devices on the perimeter entry points, with the numbers increasing. On selected doors, he uses CM dogging exit devices to hold the doors open electronically.
The equipment is a stand-alone, microprocessor-controlled, electro-mechanical locking system. It's specifically designed to retrofit existing doors and cover all prior door preps. Powered by four standard AA batteries, it provides more than 80,000 activations.
Operationally, the outside lever is normally locked and the inside lever is always free to allow egress. Electronic access control is achieved by pressing an access credential. The College of the Canyons uses the iButton credential but they could also use a magnetic stripe card, key code via keypad, biometric HandReader or HID proximity card or fob, and any combination, as their needs progress.
Depending on the model used in the series, the lock has various capabilities such as "lock" and "unlock" buttons on the inside escutcheon. For storerooms and classrooms, there is typically the opportunity to unlock the lock via "toggle" credential and relock with the same. A special classroom model features an inside iButton reader. The lock can be toggled unlocked by the iButton plus a PIN for higher security.
Standard features include an up to 1,000 user memory with real-time features including time zones, holidays, auto-unlocks and auto-relocks, plus audit trails of up to 1,000 events. An optional ATK (audit trail – key override) will record any use of the mechanical key on the audit trail report. Both manual and computer programming is supported by all models.
The system operator can easily control both users and access points based on time of day, day of week, credential needed and/or period of time. Reports show audit trails retrieved, access privileges granted and time functions established by either the user or door. With IR Security & Safety's Locklink software, the system administrator may add or delete users and determine which users can have access to specific doors at specific times throughout the day.
Briones uses a PDA to program his CM locks. He simply downloads information to the locking device and uploads audit trails in one step and moves on the next door. He can perform various functions including momentary and maintained access, lockout, one-time use, supervisor and even linked access, in where a code must be used in tandem with a credential.
"What we especially like is that we can retrofit the CM locks right over the holes that our previous locks leave," Briones advises.
"We use iButtons exclusively," says Briones. "All staff, including maintenance, professors, administration and others carry the iButtons. Some students who work at the College also have them. They are used to access personal offices, laboratories, exterior doors and storage areas. At some point, we would like this to be our only locking system."
Briones appreciates that the iButtons can be programmed to do various functions such as toggling. For instance, an instructor can use the iButton to open the door and then lock the door once she leaves. Custodians have normal access. Their keys unlock the door for eight seconds and then relock it. This eliminates the problem of having doors remaining unlocked during the evening and night. With this system, it's virtually impossible to leave the door open.
The audit trail is used more than most locksmiths might guess.
"It provides us with accountability," Briones explains. "It seems that we're asked all of the time for audits on doors for one reason or another. For instance, we recently had a theft and were able to track who did it because of the lock's audit trail capabilities. In this instance, it was a person who had left the College and never turned in his key.
"We can also keep track of such things as who cleaned a room and how often. In addition, I think the locks work as a deterrent. If you know your name will appear on an audit trail, you're less likely to do something wrong."
In the future, Briones is considering installing CM locks on the storage cabinets in the security office. It's an application already common in hospitals.