Ocean City Home Bank's access control goals were simple – photo identification for employees and regular vendors and cost savings by eliminating rekeying of mechanical door locks.
The bank, serving Cape May and Atlantic Counties in southern New Jersey since 1887, has a lot of cutting-edge technologies such as check imaging and telephone and online banking. So last year, the bank's directors improved its security and access control functions with installation of a Compass Technologies (Exton, Pa.) 5E access control, alarm monitoring and photo ID badging system.


Lock and key
The bank has some 130 employees in its Ocean City headquarters and branches. Until the upgrade, all lived, somewhat uncomfortably, with lock-and-key access, eked out with a few random electronic keypad areas, each accessed with its own separate code. Before opening hours, early arrivals had to wait for someone with a key to come and let them in. Every time a key-carrying employee left the bank's employ, the locks had to be changed, as did the codes for all the areas to which the employee had access.
The bank's security/compliance director discussed his concerns with Vince Reilly, the sales and service representative of the bank's systems integrator J.C. Magee. A card access system was desired to do away with keys for most applications, to conveniently let employees in and out, and also to keep track of cleaners, ATM service people and the like who came in after hours.
The bank's desires were subsequently discussed with several vendors suggested by the systems integrator. Based on simplicity, price and the backup personnel and system support offered, the 5E system was selected.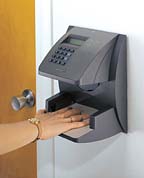 Accountability
The card access system offered the benefit of accountability. If some problem were to occur, once the system was installed, security personnel could immediately see who was in the building at the time, and what hours various people were there. The bank had never had a real security problem, but this proactive approach had everyone feeling safer. For a community bank of its size, it was well ahead of most institutions in the area. Early responses from employees were very positive.
When employees leave their employment, they can be taken out of the system within a few seconds. Whether they return their keycards or not, the system will not allow them access. Not only is the card invalid, if a former employee tried to use it, security could access the photo and card information to help to track that person down.
None of the previously used codes are needed. The program operates at the times and on the days it has been told to, and the programming says who can get in and who can't. The photo identification card gives access to all areas its carrier is cleared to enter. Managers can go anywhere, use their cards and the system lets them in. Some mechanical keys are still in use for after-hours deadbolts. Only a few people at each appropriate location, plus authorized service people and cleaning crew, have these keys.



User friendly
A community bank like Ocean City doesn't have a large security staff or unlimited time on the part of the security and human resources directors. Employees have to be able to learn the system quickly and easily. The security department did not need to re-enter names of cardholders; it simply imported the information from separate databases into the access system. All permanent backup data were already in the system, and access rights were granted to each individual immediately or, in the case of new employees, after a 90-day probationary period. ID photos could be taken and a new access card prepared and handed over in a few minutes.
Other security arrangements were also instituted including digital cameras installed inside the vaults. The cameras are supervised by the 5E system; motion sensors trigger the security video camera operation, saving digital storage space.


Compliance and Crime
There are numerous national and state agencies that mandate bank security and compliance measures, depending upon the type of institution and its charter.
According to the American Bankers Association and its Web site, www.aba.com, all banks are required to have rigorous physical security programs; and a bank's top priority will always be the safety of customers and employees during a robbery attempt, for instance.
Robbery deterrence efforts on the part of financial institutions continue to be a balancing act between creating a welcoming environment and maintaining stringent security measures. Fortunately, a well-trained staff, sophisticated alarm systems, high-tech cameras and other tracking devices have been effective in helping law enforcement officials catch bank robbers, according to the ABA.
To deter bank robberies, the industry recognizes the value in maintaining an active and ongoing partnership with law enforcement. Three out of four bank robbers are caught within 18 months of their crime, according to the Federal Bureau of Investigation.
Bank robberies across the nation have fluctuated over the past 20 years and seem to go up when the economy heads south. For instance, bank robberies peaked in 1992, declined and spiked again during the recent economic downturn.
For example, in 1984 there were 6,067 robberies (including those of commercial banks, mutual savings banks, savings and loan associations, credit unions and armored car companies) as compared to 7,596 robberies in 2004. In 1992, robberies hit a peak of 9,540 while, in 2001, there were 8,516 robberies. The lowest year? In 1985, there were 5,427 bank robberies, according to the FBI Bank Crime Statistics database.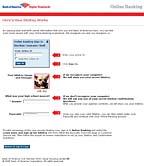 Sidebar: Bank Access 'Branches' Out
There are some special bank services in which special security solutions work well with customers and their financial institution.
One example: members at South Florida's largest credit union, Eastern Financial Florida Credit Union, use biometric technology to access safe deposit boxes at several existing branches. Customers operate HandKeys (Recognition Systems) to enter the deposit box vaults; the devices automatically take a three-dimensional reading of the size and shape of a hand and verify the customer's identity.
"We wanted to streamline our services and increase security for our safe deposit box areas," explained Mark Holmes, vice president of marketing for Eastern Financial Florida Credit Union. Only one customer at a time is allowed in the safe deposit vault.
For Bank of America, it concentrates higher level security for online banking customers concerned about computer security and identity theft.
The bank's online security service, called SiteKey, helps prevent such fraud and identity theft. The millions of online banking customers can pick an image, phrase and challenge questions to protect their accounts and make sure they're not at a phony Web site. Law enforcement and bank security officials report that, among Internet-based scams, they are seeing fake sites that look like official bank Web pages. Typically, an e-mail message to customers requests they click on the fake site to update their personal information.



Sidebar: Access Alternatives: From Phone to Wireless Locksets
There's more than one way to implement access controls over multi-doors or for a smaller number of doors.
One strategy: intercoms and telephone entry systems, especially those driven by leading-edge technology or designed to fit into a diversity of door spaces.
Internet Protocol or IP now plays an important role. At the American Society for Industrial Security exhibition earlier this year, TOA Electronics of South San Francisco, Calif., showed an expansion of its N-8000 Series IP Network Intercom that includes a multi-function master station, which has a built-in Ethernet connection for direct network connection; a 32-character alphanumeric LCD display; and handset and speed dial functions. A flush-mount door station also connects directly to the network and includes a vandal-resistant call-switch and control output for door release.
The IP Network Intercom handles up to 1,280 stations on existing corporate local and wide area data networks and can be controlled and monitored through software or by a Web browser.
Another example comes from DoorKing of Inglewood, Calif. Its 1802 telephone entry system is available in a flush-mount design. Also available in a surface-mount design, it has memory options of 125, 500 or 1,000. The system is designed for places where space is a premium.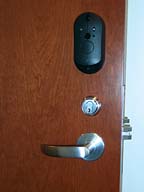 Piezoelectric technology also can play a role in access controls. For example, a piezoelectric exit button from Dortronics Systems of Sag Harbor, N.Y., works in heavy-duty applications in indoor or outdoor environments. The piezoelectric switch can control automatic doors, electric strike/lock or magnetic locks. It can also be tied to the remote bypass (request to exit) input of an access control system or used to shunt an alarm system to allow egress from a secured area.
Then there are wireless solutions.
For example, The Schlage (IR Security & Safety, Carmel, Ind.) Wyreless WA Series of locksets are a family of wireless access control products that combine elements required at the door for a complete access control solution in one integrated package, according to Schlage. The locksets include the card reader, electric lock, request-to-exit sensor, door position switch, battery pack and RF communications package.
Some access controls, aimed at vehicles, discourage inappropriate or unwanted traffic patterns.
DoorKing's auto-spike/ barrier gate operator system, for instance, provides increased traffic lane control in applications where bollards or crash barriers are not practical. The system, which will disable a vehicle by flattening tires if an unauthorized exit occurs, can accommodate any traffic lane width by combing different lengths of tunnel sections and spike sections. The barrier gate operator and auto-spikes operate in synchronization so that the spikes are always in the up position when the barrier arm is down, and in the down position when the barrier arm is up. An optional stop/go traffic light and mounting post signal drivers when it is safe to proceed.