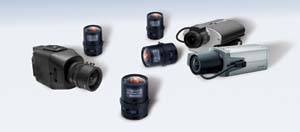 In this post-9/11 age, security video reigns supreme as the most effective security technology, this according to an exclusive interactive online survey, Privacy vs. Security, conducted by SECURITY Magazine. (Please visit www.securitymagazine.com for the entire survey.) Of the over 1400 respondents, approximately 30 percent of end users polled claim video security most effective. And first quarter 2002 numbers show that 40 percent of end users plan to reevaluate their security systems and 17 percent will upgrade their system. Within a video system there are major components that work together to get the maximum effectiveness for your CCTV system. If thinking of upgrading your CCTV system, ponder these important CCTV components: IP cameras, lenses, transmission methods, DVRs, domes, color cameras and monitors. What are the top reasons one would want to upgrade these components? SECURITY reports on the major facets of upgrading a CCTV system.
 
Can't Cover Remote Locations?
When is it time to network-enable cameras? The time to move forward on network cameras is based upon the need that arises to view virtual real-time video from the cameras at multiple viewing stations or remotely.
According to Anders Laurin, vice president, networked facility, Axis Communications, Chelmsford, Mass., the rapid growth of CCTV has come about due to a technological revolution in the security market sparked by the convergence of computers with CCTV, the growth of digital video recorders, and the spread of video distributed over the Internet. These technological developments have also heightened interest and demand for a new form of surveillance in which users can remotely monitor people and property, as well as industrial processes. This new Internet Protocol (IP)-surveillance technology creates digitized video streams that when transferred via a computer network, enable remote monitoring as far away as the network or the Internet reaches. IP-surveillance enables users to take the strategic step toward developing a more open digital surveillance system by providing solutions for converting analog images into an easily distributed digital format—at a manageable level of investment. Frost and Sullivan predicts that the network camera and video server markets will continue to grow at around 90 percent a year through 2005.
Viewing from multiple locations can be addressed with the Samsung Camera, Secaucus, New Jersey, Webthru series of Web cameras. The cameras have self-contained servers, are IP addressable and support up to 100 users simultaneously viewing images. Samsung Camera's SWC-104 four-channel Web camera server combines a web-server with embedded Linux, a networking device, and a CCD module all built into the hard case of the web camera. The SWC-104 can instantly be connected to a network or in-house Intranet.
The SWC-104 adopts networking and digital imaging processing using wavelet image compression technology that is 30 - 300 percent more efficient than standard JPEG. The SWC-104 enables high-speed surveillance images to be sent to up to 100 different locations all at once.
"Because the required Internet circuitry is built into the camera body—32bit RISC CPU running its own Internet site via embedded Linux—the SWC-104 is exceptionally easy to install and highly efficient," says Frank Polidoro, Samsung's national sales manager for CCTV Systems. "It uses the latest wavelet image compression technology, has image compression and decompression rate controls, and features built-in motion detection and alarm input. The SWC-104's is the perfect solution for a range of security applications, including additional door, gate, parking lot and public area monitoring."
AXIS' 2420 surveillance camera offers future-proof digital security solutions as well as backward compatibility with traditional analog CCTV systems. Using motion-JPEG image format, the camera guarantees high quality motion and still images at all times—regardless of the bandwidth restrictions on the network. With direct attachment to a local Ethernet network or the Internet, the AXIS 2420 network camera is all that's needed to receive high quality streaming video through a standard web browser. To complement existing analog cameras, it can simultaneously plug into an analog surveillance system via its video output connector. Features include:
In-image motion detection
Applications for event-triggered alarm messaging
Remote storage of images
Analog video output
Support for pan/tilt/zoom devices
Lenses Are Limited?
When looking at indications of an upgrade for CCTV lenses, one must look at these key components: 1) the quality of the picture they are receiving from their monitor is poor, 2) the lens is not working properly, and 3) the coverage they are perceiving is not meeting their demands.
Individuals may have their own preferences, but if they are unaware of the new technology, they need to research the benefits that some lenses have over others. These can range from a lens being composed of all glass versus plastic, a faster lens (better f-stop), more light, and the grade of glass that of which the lens composed—the higher the better, emphasizes Kisar S. Dhillon, product marketing manager for Rainbow CCTV/ISO, Irvine, Calif. Also, individuals are requesting aspheric-type lenses, due to the fact that they provide better picture quality, especially around the edges of a picture. Among these popular lenses, the zoom lens has always been a favorite, because of its ability to zoom in for a closer picture or zoom out for a broader view.
For example, Rainbow offers a versatile aspheric vari-focal lens. The 1/3" offers a versatile 2.8~12mm focal length range and an F-stop of 1.4. The use of aspheric technology minimizes distortion and improves corner sharpness over standard lenses.
"If an integrator is spending the time and the money to upgrade a system, change the lens to a more versatile lens. When it comes to making the jump to an all-around, more effective lens, industry experts sing the praises of the vari-focal lens, which are becoming more popular because of their versatility," says Steve Beaulieu, national sales manager, Tamron, Commack, N.Y. "Fixed focals become cumbersome for identification purposes. You need to take off the lens and physically put on another one. With the vari-focal, you can get wider and tighter shots," says Beaulieu.
Tamron offers its most versatile vari-focal lens yet—the 1/3" 2.8-12mm F/1.4 vari-focal. From extremely wide angle to telephoto, this one lens can be used in nearly all CCTV applications. Among its key features, the Tamron 2.8-12mm offers aspherical optical technology, fast F/1.4 aperture and locking mechanisms on the zoom, iris and focus rings. Sharper image quality is achieved through Tamron's use of an aspherical element. This enhances the overall performance by eliminating image distortion and providing corner-to-corner sharpness.
 
Need to Eliminate Interference?
Most security experts rationalize that RF interference, size and distance of application, covert surveillance and video quality are all strong reasons for moving to a different technology.
As the ever-increasing demands for bandwidth evolve, fiber optics adds to the long-term success of a video system. Fiber optics involves the transfer of light instead of electrons, eliminating electromagnetic (EM) and radio frequency (RF) interference. When a signal is converted to light for transmission over fiber optic cable, it becomes immune to all types of interference, including high voltage equipment, power lines and even lightning. Fiber can carry much more information with higher fidelity than coax or copper, and can carry multiple signals over a single fiber. For example, by using a fiber optic video multiplexer, ten separate, uncompressed video signals can be transmitted over a single fiber optic cable. Advantages include no crosstalk or drifting, absolute minimal distortion and uniform signal quality over the entire transmission path. "If it is imperative that a surveillance system consistently transmit and capture a high-quality video image for viewing or archiving purposes, then fiber transmission is the option," says John Lopinto, president, Communication Specialties, Hauppauge, N.Y.
"Fiber is the most cost-effective medium for distances longer than 1500 feet. With today's turn toward digital video and digital storage, digitally encoded fiber optic video allows you to transmit and receive a 10-bit, RS-250C short haul quality video signal long distances. There will be virtually no degradation to the transmitted signal over the specified distance," says Skip Haight, marketing communications manager, International Fiber Systems, (IFS), Newtown, Conn.
"If today's system requires one camera and tomorrow's system requires expanding it to 32, change the fiber optic transmitter and receiver on each end. Up to 32 channels can now be transmitted along one fiber," says Haight.
With the IFS VT/VR73230 32-channel digitally encoded video multiplexing system, the digital video multiplexer utilizes the newest in state-of-the-art course wavelength division multiplexing (CWDM) technology that enables a much higher number of channels on one optical fiber compared to the existing WDM technology commonly used.
The Pure Digital Fiberlink 10-channel multiplexer, from Communication Specialties, digitally transmits 10 channels of uncompressed video over a single fiber.
And, Fiber Options, Bohemia, New York, offers its S712D universal data repeater, which handles major data formats in both directions. If the data format is changed, the fiber optic link does not have to be replaced.
Reports by J.P. Freeman claim that wireless digital video will have a major impact on CCTV and video surveillance within the next five years. The Falcon PLUS, by Trango Systems, San Diego, delivers high-resolution, real-time, full-motion video up to seven miles line-of-sight. Boasting twelve user-selectable channels, the Falcon Plus can support multiple camera installations and simultaneous data transmission up to 9600 bps. With 5.8 GHz band and polarized antennas, users can realize video transmission quality with maximum immunity to interference.
Also, SmartSight, Laval, Quebec, Canada, utilizes video-over-IP (VOIP) technology, offering video quality at the lowest overall bandwidth requirements. Applications include situations where cabling is too expensive or impossible. Systems integrator, New England Systems and Software (NESS) specifies SmartSight products when designing digital, wireless networks. "The quality of the image and reliability of the monitoring is the same as though the camera was physically wired," says Brian Hogan, NESS president. SmartSight products will enable and surveillance over company networks and the Internet, while simultaneously offering corporations, ISPs and ASPs a tool to provide real-time video over the Internet.
NVT (Network Video Technology), Redwood City, Calif., offers unshielded twisted pair (UTP) technology, and its UTP/CCTV system supplies a campus-wide transmission solution that allows composite video to be transmitted over unshielded twisted pair telephone wire for distances up to 8,000 ft. without a repeater. With NVT's crosstalk immunity, video signals may reside in the same wire bundle with other potentially interfering signals, such as ringing telephones, data communication signals or other video signals. NVT's devices allow CCTV systems to be designed in the same fashion as copper UTP phone and data networks, resulting in a high-quality, flexible expandable system that uses less conduit space and fits a common media topology. "What makes UTP effective is that it has a high immunity to interference. It is inexpensive, easy to install and replenishable," says Guy Apple, vice president for NVT.
 
Need Better Recording, Playback?
As we fast-forward into the digital versus analog recorders debate, the disparity is overwhelming: no tape rewinding, exceptional video, intuitive logic in terms of setup, recording modes, motion detection, alarm recording, and no heads to replace every 6 months. Selecting the right digital video upgrade for your particular application is essential for improvements in image quality, storage and retrieval. How many hours are spent looking at analog footage? "The trend towards displaying or recording only event-based video—alarms interfaces—is now taking the next step in providing information. As the industry becomes increasingly digital, the question is why can't we analyze, extract and manage this digital information as we do any other data set?" asks Bradley C. Lynch, managing partner, Solutions Services Group, Worcester, Mass.
"The real key to digital is the responsibility of the manufacturers to provide a product that will fully integrate into the surroundings with a minimal amount of effort and tight-knit control," says Dan McGinley, national sales manager, ELMO Manufacturing, Plainview, N.Y.
According to John Kaloukian, senior marketing manager, Sony Electronics Inc. Visual Imaging & Security Systems Division, Park Ridge, N.J., key advantages of DVR over analog VCRs are random access to any segment of the recording allowing for remote monitoring, programmable recording time, picture quality and image transfer .
Sony's HSR-X200 has five picture quality recording modes up to 500 TV lines. This system also has a built-in hard drive—no tape. Other features include: expandable HDD capacity from 80 GB to 160 GB, network capable via LAN card, image transfer to memory stick, compact flash card and micro drive with PC card adapter.
For facilities migrating from analog to digital, the Kalatel Calibur DSR-2000e digital recorder is basically plug-and-play and the unit works with all other major CCTV components. End users simply upgrade their systems as time and budgets allow. Images and clips can be saved at will, then opened later by users on their PCs to review, print, enhance or send to others.
Panasonic Security Systems Group's (SSG), Secaucus, N.J., has a new DVD-RAM and CD-R archiving solutions for the company's WJ-HD500AV digital disk recorder. To facilitate universal compatibility, both kits include Panasonic's WV-AS50A ViewerSoft software that allows images to be archived onto either the DVD-RAM or CD-R units to be played back in their native formats on standard PCs. "The introduction of our new DVD-RAM and CD-R archiving solutions deliver cost-effective and universally compatible digital archiving solutions," says Frank Abram, general manager, Panasonic SSG.
The March Networks, Ottawa, Ontario, 4300 DVR with version 3.0 software is a digital video recorder available for organizations with requirements for multi-site installations, high frame rate recording and viewing, high reliability and deployment leveraging the organization's existing network infrastructure.
 
Need Rugged, Versatile Domes?
As more cameras are placed in environments that are apt to vandalism, domes make sense. Since 9/11, the major thrust in CCTV domes trends has been the creation of increased resilience. "Discreet CCTV cameras have become important in the wake of recent current events. By designing these cameras into an installation, security professionals can feel secure knowing that the camera cannot be tampered with and that the captured images will be of the highest quality," said Raul Calderon, national product marketing manager of Sanyo Security Products, Chatsworth, Calif..
"To meet this challenge, many fixed cameras tout the vandal-resistant label. Domes with movable cameras are generally not as robust due to their mechanical complexity. Nevertheless, there are some products that are tougher, such as bullet-resistant, PTZ domes," says Bob Nelson, senior electronics engineer, Videolarm, Decatur, Ga. CCTV domes can provide a broad sweep of an area, which can minimize blind spots. PTZ units with movement speeds of over 200 degrees per second and zoom factors of 16x are most effective in applications where an unbroken chain of evidence must be created, explains Nelson.
According to Richard Harper, security coordinator, Eastern Health System Security Services, Birmingham, Ala., "Our pan and tilt units were so slow that when we made a 180-degree sweep, there was a chance of losing the suspect. The Surveyor by Vicon, Hauppauge, N.Y., solved all of our problems. The Surveyor features adjustable tracking speed, from high-speed glance to slow tracking close-up, automatic ratchet down speed as zoom is applied, and 180-degree flip keep suspects in view."
A major trend for the past several years has been day/night technology in which one dome takes the place of two different cameras, one for well-lighted monitoring and another for low-light monitoring. A second trend has been the continued movement from analog to digital recording. When a camera moves or sways, as when pole-mounted, it uses more disk space for digital recording. The rule is simple: The more the movement, the more the hard disk space used, says Scott Jolma, product manager, Kalatel, Corvallis, Ore.
The Kalatel CyberDome Day-Nite camera is a solution for applications in which continuous surveillance is required in changing light conditions. The CyberDome Day-Nite camera features a high-resolution camera that switches between color during the day and monochrome at night. An electronic shutter speed control reduces shutter speed, taking in 15 times more light, obtaining usable images in extreme low-light conditions.
Panasonic's vandal-proof mini-dome cameras feature Panasonic's Super Dynamic II camera technology plus day/night operation in a compact yet rugged dome enclosure. These vandal proof mini-dome cameras offer benefits to capture highly viewable color and/or black-and-white images under extreme lighting conditions within the same scene.
The ELMO PTC-200C dome camera with a 90-degree per second pan/tilt speed covers wide areas and captures every detail for effective surveillance.
The Warrior by Videolarm is built to protect cameras. The front plate is made from 12-guage steel, the back box is 15-guage steel and the window is scratch-resistant polycarbonate, which allows it to stand up to the harshest environmental punishment.
 
Poor Images for IDing?
What are you looking for in a camera upgrade? Color? Day/night capabilities? You must always ask, has the quality of new technology surpassed your current system? Are you having trouble identifying objects/scenes on the live or recorded video? These are only a few of the questions a customer might ponder. According to Craig Dahlman, senior product manager Pelco, Clovis, Calif., there are certain criteria that define the time to upgrade cameras. Some of these improvements can be quickly viewed as:
• Move from B/W to color
• Color is more appealing for long viewing periods
• Need for more sophisticated backlight compensation
• Need for extended dynamic range
• Need for low-light color capability
• Picture quality/detail improvements are needed
"B/W cameras only provide a black and white image, which represents a gradation of gray colors from black to white. This won't help you when specific color identification is critical," says Kaloukian.
Kaloukian also notes that there are several areas one should be concerned: 1) Resolution: Cameras range from standard resolution to high resolution. The higher the resolution, the sharper the image. 2) Sensitivity: Cameras range from normal sensitivity to high sensitivity. You would require higher sensitivity for low-light applications. 3) Dynamic range capability: Cameras with wide dynamic range will be able to reproduce images when the light conditions vary. 4) Day/night capability: Cameras with this feature are capable of switching between color and B/W when light conditions change. 5) Signal to noise ratio: A higher signal-to-noise ratio provides clearer images. 6) Color reproduction: Quality cameras should reproduce accurate color images. 7) Indoor or outdoor capability: This allows flexibility to use one type of camera regardless of the location.
Sony's SSC-DC393 features high resolution with high sensitivity, high signal to noise ratio and accurate color reproduction.
Sanyo uses its Exview CCD technology and the company's DSP technology to provide the latest performance advancements in sensitivity, resolution and image quality. The VCC-6594 Digital DSP camera allows high quality color images even in very low light conditions, down to 0.3 lux in color mode. "Such images in low-light situations will boost identification in demanding surveillance installations," says Calderon."
 
Washed-Out Monitor Display?
It is a wise choice to change monitors when the
picture becomes washed out and tough to adjust with monitor controls. When looking to upgrade your monitors, keep these simple things in mind:
Move from B/W to Color
Color is more appealing for long viewing periods
Space requirements change—need for more in less space
Technology advancement
Picture quality/detail improvements are needed
Color imagery improvements
CRT vs. LCD
"Monitors in time lose their snap and become washed out and dim. This is not evident to someone who sees them every day and does not notice the subtle changes. If there are no constraints on available space, 20-inch monitors are the best for your dollar," says McGinley.
One of the most important factors is color reproduction. The monitor must able to reproduce the correct color; otherwise it defeats the purpose. "Using a multiplexer will allow one to display multiple cameras on your monitor, thus reducing the size of the picture displayed. A bigger monitor will allow you to display these pictures in a larger format. This can help one in identifying objects or scenes that would be more difficult to identify on a smaller monitor. To reduce distortion, a flat screen is recommended," says Kaloukian.
The ELMO ECM Series of color CCTV monitors have inputs for multiple video sources and auto-sensing NTCS/PAL video. The 20-inch ECM-2002 has more than 500 TVL, the 14-inch ECM-1402 has more than 450 TVL and the 10-inch ECM-1002 has more than 400 TVL.
Another example, Sanyo's VMC-8613 high-resolution color 13-inch (diagonal) monitor and the VMC-8618 high-resolution color 18-inch (diagonal) monitor for industrial/commercial security applications. The VMC-8613 has over 750 lines of resolution and the VMC-8618 offers over 800 lines. Model VMC-8618 includes an over/under scan switch to make viewing easier. For a larger picture, the operator would turn the setting to over-scan. The under-scan setting allows the entire picture to be squared off in a black frame, creating a flat, even appearance that reduces eyestrain. This is ideal for a 24/7 manned security station.
Pro-Video by CSI/SPECO, Amityville, N.Y., has a new 10-inch color monitor. The high resolution VM-1005C is ideal for desktop use or anywhere that space is a concern. The monitor provides for two BNC one Y/C video inputs with looping outputs. It features two audio inputs with looping outputs, and a built-in sequential switcher. It offers an on-screen display for the adjustability of color, tint, brightness, contrast, sharpness, volume, dwell time, language and title.