Internet Protocol or IP video surveillance can hit the spot for some restaurants.For example, a group of Seattle-based restaurant owners needed advanced remote monitoring systems for their restaurants and bars. Although a few of the facilities already had analog cameras, the owners wanted a way to access the video remotely, as well as record and manage the images. Enter Internet Camera Solutions, Seattle, an IP surveillance solution provider that develops digital surveillance systems that allow clients to maximize profits, control costs and deter theft through the ability to monitor businesses from anywhere in the world. The company turned to Axis Communications, Chelmsford, Mass., for network cameras and video servers.
Before Internet Camera Solutions began installing Axis network video products, restaurant clients were unable to efficiently monitor their stores, and with multiple locations, it was extremely difficult and tiring to travel between the various locations to monitor operations. In addition, if stock or money was missing, it was nearly impossible to determine who was responsible.
"Restaurant owners don't like to feel that they need to live in their restaurants in order to know what is going on," says Bruno Pirecki, vice president and managing partner of Internet Camera Solutions. "They need their surveillance systems to function as a remote set of eyes."


An Expanded Presence
With the Axis equipment, restaurant owners can view live images from their restaurants and bars via the Internet from anywhere. This allows them to keep track of customer service practices and employee safety, or prevent theft and vandalism, without spending as much time in each restaurant.
Before the new equipment, images from analog cameras recorded to VCRs. However, the image quality degraded as the tapes were constantly reused and managers had to spend hours winding through video just to find one particular event.
Now Axis video servers digitize the video feeds from each restaurant's analog cameras. In addition, various Axis network cameras added to the system to enhance coverage. Software enables the restaurant owners to easily manage and store the video.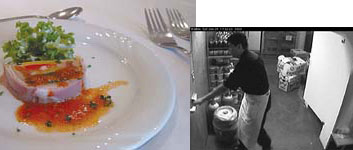 More Management
Hard disks now hold digital images, with no loss in image quality. Stored images can also be accessed on-site or remotely via the Internet. In addition, search functions allow restaurant owners to zero in on a particular time or incident almost immediately.The system can configure to store images only when motion is detected.
"Network video also provides clients with a way to guard themselves and their businesses against waste, shrinkage, and frivolous lawsuits," Pirecki says.



In fact, Maltby Pizza and Pasta, one of Internet Camera Solutions' first restaurant customers, was able to use the video from the Axis network video equipment to protect the business against a lawsuit. The restaurant's employees had to remove an intoxicated customer who was disturbing others. Once outside, the man fell, injured himself, and ultimately threatened to sue Maltby Pizza and Pasta. However, the restaurant produced digital video from the incident that proved the man's claim was false.
In another example, a restaurant and bar in downtown Seattle experienced trouble with liquor theft from its supply room. An infrared-sensitive camera and Axis video server allowed the restaurant's owner to view and record images of all activity in the storeroom, even in complete darkness. As a result, the bar caught a patron stealing a bottle of high quality scotch. Theft from the supply room has not been a problem since.
The flexible placement options with network cameras are beneficial because the cameras can go anywhere there is a connection to the network. If none is available, then a wireless connection can be used. This helps restaurants install cameras in discreet locations, where the security gear is not easily noticed.
According to Pirecki, it is common for restaurants to see a 3-5 percent decrease in liquor and food costs after they start using network video. In some extreme cases, the cost savings can be as high as 15 percent. The technology also helps restaurant owners and managers keep an eye on safety procedures and minimize the risk of accidents.
"Our clients possess the ability to identify theft, determine if workers are giving away food and drinks to their friends, and reward employees who are doing a great job. Axis' network video technology is the best overall time saver and cost cutter that we can provide our customers," Pirecki says.