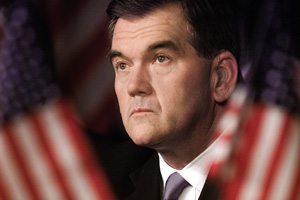 Overwhelmed? Inundated? Questions that come to mind when thinking of the monumental task of securing the homeland. How can one man even pretend to tackle the bureaucracies of Washington, D.C.-from government agencies such as the FBI to the CIA to Health and Human Services? No pretending. When President Bush signed the executive order on October 8th to establish within the Executive Office of the President an Office of Homeland Security, former Pennsylvania governor, Tom Ridge, became the busiest and most confident man in national security. "I'm absolutely confident of our ability to rise to the challenge that the President has given us, and that is create a national strategy for homeland security," says Director Ridge.
The summary of the order states that the mission will be to develop and coordinate the implementation of a comprehensive national strategy to secure the United States from terrorist threats or attacks. Ridge will work with executive departments and agencies, state and local governments and private entities to ensure the adequacy of the national strategy for preparing for and responding to terrorist threats or attacks within the United States.

"Since September 11th, our government has worked so well together-both at the federal, state, and local, public and private sectors. While the federal government is more coordinated than ever, we are also working hand-in-hand with state and local governments. We are in constant contact with... many others, to determine ways to protect our homeland and respond to potential threats," says Ridge.
Easier said than done. The fact remains that there needs to be a finer focus on homeland security from border and immigration patrol, airport security to bioterrorism counteraction, just to name a few.
SECURITY spoke exclusively to industry experts, and they unanimously voiced their opinion on pressing issues of protecting the homeland. Topics included:
Model after private sector
Proper training
Communication
Risk assessment
Technology/Systems Integration
And as far as legislation is concerned, some experts maintain that we need to better enforce current laws rather than create many new ones. Just recently, congress passed the bill that allowed broader reach for the FBI into the monitoring of emails and phone calls on suspected terrorists.
Others disagree, "I think there has to be some legislation on training standards on a national basis. With training standards, you are going to have educated and career-oriented individuals, as compared to a 600 percent turnover that you see in the guard industry," says Gerald Brandt, a Chicago-based security consultant.
Training is key, echoes Bruce Mandelblit, a security director for a Central Florida resort. "Director Ridge could develop an Internet-based training format in which security professionals can obtain information, as well as provide up-to-date training in such areas as being "first responders" to a terrorist incident and 'weapons of mass destruction' awareness."
The dilemma still exists in these early stages of homeland security-he doesn't have a budget and he has a skeleton staff. "It will all be nice smiles and grins to his face, but they [FBI, CIA] will walk out the door, and no one is going to coordinate anything," says Richard Chace, executive director for the SIA.


The Perfect Model
And what about the private sector? According to industry insiders, Ridge is assembling a task force that is ready and aimed at infiltrating the private sector for security insight. "The new task force is certainly a step in the right direction. He [Ridge] needs to get out there and understand what the private sector is doing. How do corporations coordinate these large-scale security measures on a worldwide scale? He should take existing models and try to determine what will work within the federal government," says Chace.
Geoff Craighead, vice president of high rises services for Pinkerton/Burns, believes it is also important that Ridge solicit input not only from the large number of law enforcement agencies, but also security groups such as SIA, ASIS or the IAPSC (International Association of Professional Security Consultants)-trade groups that represent the security industry.
"Once Director Ridge establishes a collaborative effect of the public and private sectors, he will be able to really focus on the mitigation and prevention of any potential future acts of terrorism," says Mandelblit.
And that hinges on the securing and sharing of information. "Part of the problem is that they don't have the infrastructure or the information technology to speak to one another and share information on a real-time basis. Until that is solved, there is no way that we are ever going to be able to coordinate mass efforts to secure our homeland," says Neil Ivey, SIA's director of industry groups and government affairs.
"Not only must Director Ridge break down the communication barriers among the FBI, CIA, INS, ATF and other law enforcement agencies, but he must also create new avenues of dialog between the public and private sectors, in which contemporaneous communications and the coordination of such communications are the underpinnings for developing
a trust and cooperation between private security and law enforcement," says Mandelblit.
Others are a bit more skeptical. According to Gerald Kovacich, a 37 year veteran of security, criminal and civil investigations, anti-fraud, information systems security experience in both government as a special agent and as a manager in international corporations, "The establishment of the homeland security position is another clog in the bureaucracy and gives good PR for those naive enough to think it will make a difference. If homeland security is to work, it cannot
use a matrix management approach. Treat the U.S. as a 'corporation' when applying security. Gov. Ridge must have the funds, authority and formal responsibility." Words to the wise, says Kovacich, "Use the systems approach: design it securely, build it securely and maintain it securely."


Getting Techno
Electronic security will play an essential role in securing the country. There has been talk of national ID cards/smart cards, biometrics at airports, broader wiretapping laws, increased surveillance of borders and more stringent access control measures. Technology such as digital CCTV, biometrics and smart cards were once perhaps viewed as something unnecessary and expensive - but post September 11th - they are now seen as vital and cost effective.
The current buzz is surrounding the creation of a national ID or smart card, which would consolidate various aspects of ID into a central or national card. The idea being that it would make it that much tougher on terrorists trying to get into the country or travel within it.
In late-breaking developments, Ridge led a delegation to the Canadian capital to finalize details on the Smart Border Declaration, which was signed recently. Officials are looking at using biometric identifiers in travel documents to make it easier to track travelers who have been cleared through a screening process. "Match the card with biometrics, and you have it extremely difficult to steal an identity, commit credit card fraud, or breach airport security," says Chace.
And one of the hottest, up-and-coming technologies is biometrics. With the ability to match known felons to a national database, iris recognition technology to facial scanning to hand geometry is becoming one of the most talked about and sought after technologies in the industry. There are the industry stalwarts, too: access control, CCTV and alarms-physical and logical access control to valuable assets, surveillance of assets and alarm systems to detect unauthorized access. These product areas continue to see healthy gains in revenue during uncertain times. Access control-be it a key card or biometrics-can be tied in with a CCTV system. Thus, systems integration is the just the next logical step for an ever-evolving industry.


Shoring up Our Shores...and Borders
How can we protect our borders? There has been talk of putting surveillance cameras on a rotation schedule where they can click through on a cyclical basis; or perhaps programming the camera to pick up heat, only registering 98.6-degree heat temperatures-IR, thermal imaging cameras.
There needs to be better technology to expedite the immigration process, and at the same time, keep better track on people coming in and for what reasons. Already in the formative stages, a biometric visa would aid in the application process at a consulate. It would be a smart card that would have a biometric identifier tag.
Be careful, warns Ivey, "Everyone really needs to assess what really needs to be done and where the potential for threat is. One thing that we don't want to see happen is everybody put up all the security they can. It is a matter of learning what you need, assessing your risk and talking to consultants," says Ivey.
People's perception of safety and security goes a long way in the security package; but realize that people are a force multiplier. It is imperative that they remain vigilant. Technology is just a component of the total solution, explains Ivey.