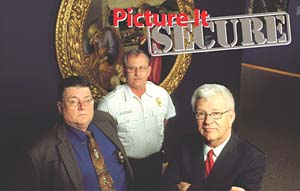 Less than two years ago, the North Carolina Museum of Art was forced to cut operational hours because state budget shortfalls impacted security personnel. Today that picture has changed dramatically, thanks in large part to an international cooperative project that showcases state-of-art security equipment at the Raleigh museum.
The only art museum in the United States selected for a partnership with the Italian Trade Commission and the Italian Security Association, the facility's new gear, installed this spring, is valued at more than $200,000.
"Ensuring the museum and its holdings are safe has always been a top priority, and this project provides us the most current security technology and at no expense to the state of North Carolina," said Museum Director Lawrence Wheeler.
In 2002 the Italian Security Association and the Italian Trade Commission developed a project to provide security equipment to an American museum. "The chief of gallery security, Bill Gilsdorf, tenaciously pursued a variety of avenues for enhancing our security options during our challenging economic situation," Wheeler explained. "He learned about the Italian government project through an association of security professionals."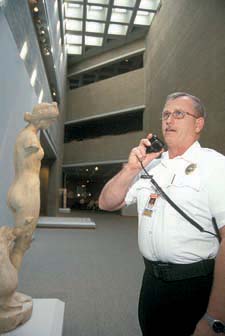 Letter to the World
After submitting an initial proposal, the Museum of Art was one of six museums from a field of 300 across the country selected to travel to Italy to present how it could use the equipment. Gilsdorf represented the museum at that meeting.
Ken Smith, director of security at the museum, pointed out that such facilities have a number of traditional and special needs to be addressed in the development of a comprehensive security plan. "It involves the protection of restricted spaces like art storage areas and the conservation laboratory. Only security staff and appropriate museum personnel are allowed access to these areas. There are usually door alarm systems throughout, volumetric motion detectors and infrared systems," Smith observed. "Museum security also involves the protection of publicly accessible spaces. Since a museum must allow visitors to get close to priceless paintings and art objects, we must guard against theft and acts of vandalism. Ideally, achieving optimal protection against such actions is accomplished by a combination of alarms, camera work and intervention by a museum guard or a museum police officer. Because guards are not infallible, alarms that bring cameras to bear are invaluable in our efforts to combat breaches of security."
The project also is intended to showcase the Italian equipment to the American market. A large share of electronic security equipment sold in the U.S. market comes from international manufacturers, especially from the Pacific Rim. Canada, Germany, Israel, Sweden, Great Britain and even South Africa have made significant inroads into the American market. The museum initiative is thus both a marketing effort for Italian security equipment manufacturers as well as a showcase of Italian ingenuity in the industry.
"This is a cost-effective innovation in marketing that meets a real need in the community while creating a unique promotional campaign that includes the active collaboration of clients and vendors," said Vincenzo Lalli of the Italian Trade Commission.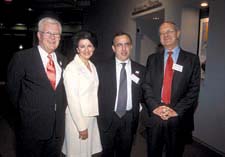 Objects of Desire
The Italian equipment should improve both indoor and outdoor security at the museum. Outdoor security for the facility entails the integration of motion detectors, cameras and high-technology monitoring systems. The indoor system involves intrusion detectors in nonpublic areas, an alarm control host unit that can accommodate future system expansion, cameras and safes. There also is a unique access control portal with finger-based biometrics for controlling access to restricted areas.
"The most important benefit of the new equipment is the self-supporting integration inherent in these systems, allowing one type of detector to communicate with another," said Gilsdorf. "Just as the new equipment allows us to strengthen the protection of the museum's collection and visitors, we cannot overlook the impact on our security operation. With intuitive command screens and integrated systems, security can respond quickly to alarms and problem locations."
With such a lineup of gear, the museum expects a fair amount of attention, too.
"This is an opportunity not only to improve security but to receive national and international exposure. Our institution is North Carolina's premier cultural institution, and it's encouraging that members of the international community are eager to invest time and resources into enhancing the protection of our collection," said Wheeler.
North Carolina officials already have noticed. "As stewards of North Carolina's cultural resources, we are charged with the protection and preservation of objects of the past," noted Lisbeth Evans, secretary of the North Carolina Department of Cultural Resources. "We are always seeking better ways to improve our security in order to ensure that future generations can enjoy not only our world class art collection but all of our state's cultural treasures. We applaud the North Carolina Museum of Art staff for its initiative and are grateful to the Italian government and the Italian Security Association."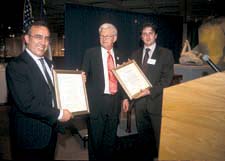 Three Elements
Just as the museum's collection ranges from 1st century Roman sculptures to abstracts by Ed Moses, the facility's new security gear includes everything from sensors and monitoring to digital video and optical turnstiles. Special consideration also had to go into the installation of the equipment so as to ensure that it would not aesthetically impact the inside and outdoor environments.
The system includes a network of underground, computer-controlled sensors that can adapt to different ground conditions while analyzing above-ground vibrations. Bi-static microwave detectors, with transmitting and receiving units, handle data using a digital signal processor. Employing algorithms and fuzzy logic, the detectors differentiate real intrusion attempts from nuisance alarms. The detection system, through application software, can operate from the museum's security control room or from any other control unit with a LAN or Internet connection. There also are volumetric microwave mono-static detectors, for indoor and outdoor protection, with similar functional characteristics as the microwaves. Doors and windows also have magnetic contacts which were manufactured to blend into the look and feel of the facility.
The Italian security designers created what they call a dark cockpit for intrusion detection monitoring. To avoid overloading an operator with too much routine information, only alarm events display for immediate attention. "It is critical to meet the psychological and biological needs of an operator," said Bruno Gasparini of Assosicurezza, an Italian association of manufacturers and distributors of security equipment and systems.
On the video side, images go to a digital video recorder that records on hard disk with backup on digital audio tape. The system features local playback as well as remote access and playback on removable disk. Live images can display on a secure website and taped sequences can be sent or retrieved over the Internet.
An exclusive video compression algorithm compresses and memorizes only the variations between successive images. The design creates greater disk capacity while speeding up image transmission. The video system also boasts an audio channel using an optional hardware module. Video/audio recording can be continuous or triggered by a programmed event.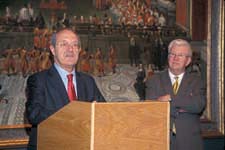 Scratches on Film
One of the highlights of the recent security renovation is a state-of-the-art video motion detection system. Through an interface, up to six critical areas can be configured with different parameters, respectively associated with different motion alarms, on each of the fixed cameras or for each of the memorized positions of the dome cameras.
"An important component of the security video system is the desktop computer," noted Gilsdorf. "Not only can we quickly transfer data to law enforcement agencies electronically, we now have valuable training support for the museum's security staff.
The new security system includes specialized access control.
Central to the effectiveness of the new security system was ensuring the integrity of the security control room itself. At the room's entrance a portal or mantrap with finger-based biometrics regulates access. "It's obvious that, if someone takes over the control room, they also take over the security system," said Gasparini. While such portals are rare in the United States, there are thousands of such configurations in Europe and South America, where mantraps are more common at bank entrances and data centers.
Optical turnstiles handle visitors at the museum entrances. Card readers are not part of this installation, however, since the museum does not require an entry ticket. Still, the system installers designed the turnstiles so that they could be retrofit with readers at a later time.
Anti-holdup safes are also part of the total design. Time-controlled, the safes include signage as a deterrent.
Saima North America of Randolph, N.J., better known as SNA Corp., installed the museum's new security equipment. The firm also distributes components in the American market.


2nd Theme, 6th Variation
"Museums are public places. Our first goal is to keep visitors safe while they are here. Next, and equally as important, is the need to protect artworks from theft or damage. In order to prevent damage, we have a small number of simple but critical rules posted. It is the guard's job to assure that visitors are acquainted with the rules," noted Smith. "Adequate protection of artworks is best accomplished with the combination of alarms, good camera work and trained, experienced guards."
A security design must also tailor to specific facility needs. "Every museum is different," said Smith. "Museums with many small galleries require more cameras and alarm systems than do museums with large, open galleries. The number of security guards increases in such conditions. The numbers of visitors who are in the building also affect security requirements. During major exhibitions, visitor numbers can far exceed overall averages. Crowd control becomes a factor as it becomes necessary to accommodate greater numbers of people in small spaces with priceless art," he said.
"At times, additional, object-specific alarms may be required. Overall, astute guards, good crowd control measures, alarms and security cameras are required in various combinations, depending on the museum."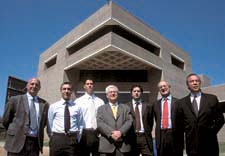 Sidebar
Inside the Application

Underground differential sensors

Microwave intrusion barriers

Volumetric microwave mono-static detectors

Magnetic contacts

"Dark cockpit" intrusion monitoring

Security cameras – fixed and domes

Digital video recorder

Door portal with biometrics

Optical turnstiles

Anti-holdup safes
Sidebar: Museum Heist of the Century
In the early morning of March 18, following St. Patrick's day festivities in 1990, two men in Boston police uniforms knocked on a door at the Isabella Stewart Gardner Museum. Security guards opened the door and the fake police officers walked out later with 13 pieces of artwork in the biggest art theft in U.S. history.
A theory emerged this spring that portrays the theft as a combined operation of Boston-based gangsters and the Irish Republican Army. According to media reports, a soon-to-be-published book links the IRA to international art thefts. The FBI still has the Gardner Heist case open in its active file and is offering a $5 million reward for the return of the artwork.