I can think of no more an appropriate way to cap our three-country survey of Asia than with the Pan-Asia Regional Council (PARC) meeting, graciously hosted by the Bill and Melinda Gates Foundation--nor any more appealing venue than their beautiful new, (extremely "green") offices located in the shadow of the "Space Needle" here in Seattle.  Opened just this last April, the new home of the Bill and Melinda Gates Foundation is the strategic center from which incredible strides in the battle against Malaria and other diseases are being advanced around the globe.  Denise Barndt, CSO of the Foundation, welcomed a packed house to the gathering, echoing the old African proverb that adorns the walls as you enter the Foundation: "If you want to go fast, go alone; if you want to go far, go together"---clearly an apt description of the way in which OSAC constituents around the world "lock shields" in their collective efforts to wage battle against global risks.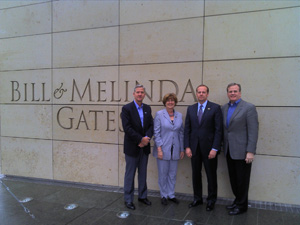 Ford, Denise Barndt, Hartung, McClurg
Denise was followed by an array of timely and very insightful presentations.  Josh Richards, OSAC East Asia and Pacific Regional Coordinator, set the tone for the day with a comprehensive review of the region with particularly eye-opening  attention given to the South China Sea and the tensions brewing there.  PWC's Marissa Michel left the audience thoroughly "sobered" by a dramatic presentation of the shift in global demographics and the risk our radically aging population will contribute to regional instability in the years ahead.  Clearly through 2025 our poorest and most politically unstable countries will have the largest populations. 
These were just a couple presentations that typified the quality of those we experienced today, many of whose contents will ultimately be available at www.osac.gov .  The day was brought to a close with a networking reception and hors d 'oeuvres, enjoyed in the Foundation's bamboo enclosed "Atrium."
This concludes the last of our "OSAC road trips" for the year. (Stay tuned for an announcement of next year's venues.)  My appreciation is extended particularly to Peter Ford and Jim Snyder and those other members of the Council who have accompanied us on these forays. They've been memorable.  Whether we were bolstering relationships in Baghdad, witnessing the early manifestations of the Arab Spring in Ammon, keeping ahead of the Cartels in Mexico,  coordinating responses to hijackings in Brazil, assessing lessons learned in Japan,  calculating cyber strategies in China, or standing shoulder to shoulder with those brave men and women of our armed services who protect our interests in Korea, we hope our efforts have in some small way further solidified the Public/Private partnership that will continue to characterize our response to whatever challenges OSAC's next 25 years may bring our way.
If you haven't already made plans to join us in November in Washington D.C. where we'll host this year's OSAC Annual Brief, please consider doing so as available reservations are going quickly. 
You're invited to stay "On the Track of OSAC" as we will continue to chronicle our 2012 travels via this blog.  In the meantime continue look for exact dates and times of Country Council meetings at www.OSAC.gov .