According to the US Government Accountability Office (GAO), the federal government sent approximately 1.1 million stimulus payments (a total of $1.4 billion) to deceased people. 
GAO says that the Internal Revenue Service (IRS) and the Treasury moved quickly to disburse 160.4 million payments worth $269 billion. In addition, says the report, "The number of economic impact payments going to decedents highlights the importance of consistently using key safeguards in providing government assistance to individuals. IRS has access to the Social Security Administration's full set of death records, but Treasury and its Bureau of the Fiscal Service, which distribute payments, do not. GAO recommends that Congress provide Treasury with access to the Social Security Administration's full set of death records, and require that Treasury consistently use it, to help reduce similar types of improper payments."
GAO says, "IRS and Treasury face additional risks related to making improper payments to ineligible individuals and fraud. For example, IRS typically uses third-party data, such as the death records maintained by the Social Security Administration (SSA), to detect and prevent erroneous and fraudulent tax refund claims. Treasury and IRS did not use the death records to stop payments to deceased individuals for the first three batches of payments because of the legal interpretation under which IRS was operating. The first three batches of payments accounted for 72 percent of the payments disbursed as of May 31. According to the Treasury Inspector General for Tax Administration, as of April 30, almost 1.1 million payments totaling nearly $1.4 billion had gone to decedents."
In the report, GAO examines the four relief laws that were enacted as of June 2020, including the CARES Act, in March 2020, which have appropriated $2.6 trillion across the government. Six areas—Paycheck Protection Program (PPP); Economic Stabilization and Assistance to Distressed Sectors; unemployment insurance; economic impact payments; Public Health and Social Services Emergency Fund; and Coronavirus Relief Fund—account for 86 percent of the appropriations (see figure).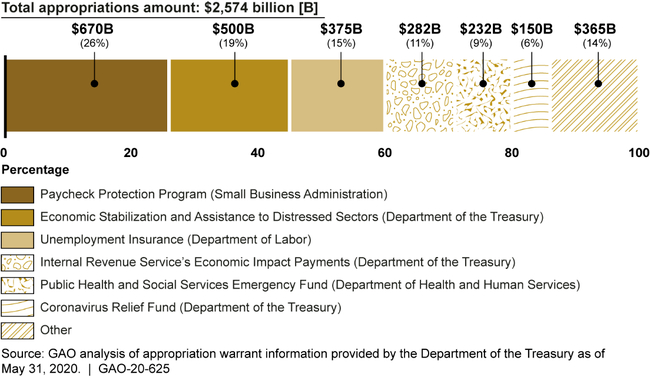 For the full report, visit https://www.gao.gov/products/GAO-20-625