Security Enterprise Services
Education: K-12
Enabling Better Education with Modern Security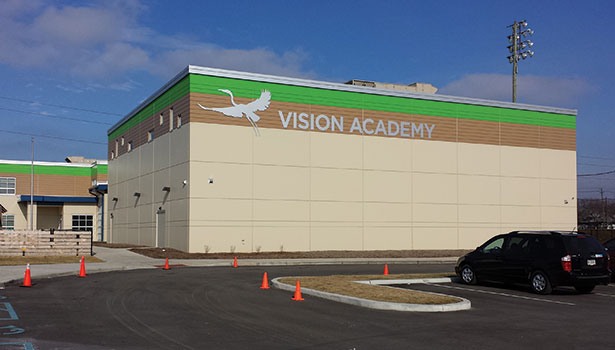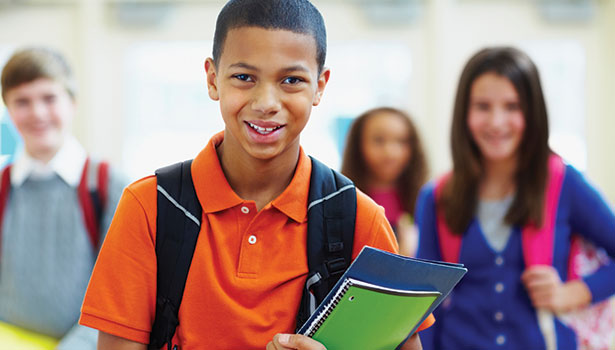 Increased security measures and state-of-the-art security systems have become a common theme in today's education industry. As threats become more apparent, security directors are turning to technology to help prevent or mitigate an event. New facilities are being equipped with cutting edge technology to ensure the safety of students and staff.
A Vision of a Safe Facility
The Vision Academy at Riverside, located in Indianapolis, Indiana, is a Community Charter Network school that provides tuition-free, college preparatory education to more than 250 students. Charter schools are independent public schools, open to all students. They are funded through public funds and governed by a Board of Directors. Charter schools generally identify an educational emphasis and design their own unique academic approach while committing to achieving specific academic standards, identified by their authorizer. A state chartering authority must approve each charter school. Vision Academy is a Mayor-sponsored charter school, building primarily on the successful educational program that Vision's leaders developed at a sister school.
Vision Academy's new 50,000-square-foot building was in need of a complete security solution that would provide both current and future students with a safe learning environment.
As a new construction, Vision Academy was able to integrate a tailor-made security system that best fit the needs of the facility, students and staff and that would accommodate growth.
"Designing a security system from scratch allowed us chose systems that helped us meet our bottom-line," says Kyle Rouse, Director of Operations for the Community Charter Network. "Our goal was to provide a secure environment that enables our teachers to focus on educating the
students."
In order to design a secure facility, Vision Academy and the district's technology consultant worked with local technology services organization, Tech Electronics of Indiana, to design and install the security solution.
Delivering a Secure Facility
The first phase of the installation was outfitting the facility with fire alarm technology. An intelligent fire alarm system was chosen to create a uniformed system of fire and life safety protection. The fire alarm system was comprised of smoke detection features, manual activation and monitoring of the sprinkler systems, with visual and audio alarm notifications.
The next step of the installation was securing the exterior of the facility. Controlling who has access to the facility is the first line of defense when it comes to deterring a threat. By installing proximity card readers, with photo ID badging for additional visual verification, at the eight perimeter entrances ensures that those entrances are only accessed by authorized personnel. The systems integrator implemented an access control system utilizing IP-based door controllers to the perimeter doors. The access control system was selected because of its seamless integration with the chosen video surveillance system. When a door entry event occurs, the video that is associated with the event is stored and time stamped for later review.
The video surveillance system provides HD quality video, utilizing three megapixel video cameras and highly intuitive video management software. The chosen system was a powerful, award-winning HD video surveillance solution that provides an effective surveillance system, which is easily maintained and provides storage. With the end-to-end surveillance software in place, Vision Academy is able to utilize the software's flexible applications and capabilities.
A total of 19 cameras were installed in the corridors, main entrances and parking areas to keep a reliable eye on the facility. Live and recorded video can be accessed by administrators, onsite or remotely from their computers or mobile devices. The system is also equipped with a unique collaboration tool. This tool allows administrators throughout the district to pull up video and invite other users to view the event.
To further protect the students, staff and facility, the main entrance was equipped with an audio/video intercom system that is integrated with the video surveillance system. This system is designed to monitor secured access to the building by providing video of the visitor and two-way audio communication with the main office. Once the visitor is verified, the operator can momentarily unlock the door to allow the visitor entry to the office.
Nearing the end of the system-wide installation, Rouse saw the need for an intrusion detection system. "While installing technology to secure the students and staff while the facility is in use is necessary, it is also necessary to make sure the facility is secure while it's unoccupied," adds Rouse. To complete the campus-wide security installation the school was outfitted with commercial door monitoring and motion detectors.
The final stage of the installation was equipping the classrooms and the corridors with an intercom system. This system features facility-wide mass notification for emergency announcements, an advanced bell scheduler and unlimited voice paths for simultaneous conversations. In combination with the intercoms, Tech Electronics provided voice and data capabilities by cabling the infrastructure with 270 data and voice connections with a 10GB fiber-optic back bone.
Technology for a Secure Today and Tomorrow
Vision Academy proudly opened its doors in August of 2014 as the second start-up school for Community Charter Network. The facility is equipped state-of-the-art security features that help safeguard students and staff from the threats schools face today.
"We were delivered a complete security solution that has exceeded our expectations," says Rouse. "The seamless integration of all the systems is easy to manage and we are equipped to provide our students a safe and secure learning environment for years to come."
The new platform was designed with the future in mind and allows the school to incorporate modern technologies as its security needs grow.


I want to hear from you. Tell me how we can improve.