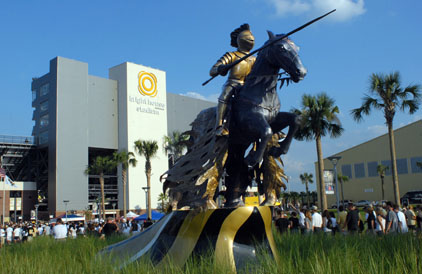 Photos Courtesy of University of Central Florida.
In order to provide a safe and secure campus community, the University of Central Florida (UCF), located in Orlando, wanted to equip itself with the latest in emergency communication systems. This was no small feat for the largest university in Florida and second largest in the nation. The institution has more than 59,000 students plus nearly 11,000 employees, across nine regional campuses. 
Prior to the Virginia Tech shooting, UCF had a security task force in place. One of the key issues that they discussed was the need for a mass notification system (MNS), taking a proactive approach to make the campus safe. Then Virginia Tech happened and like other campuses, the MNS project was moved quickly though UCF's approval process.
As a former security forces and anti-terrorism force protection officer in the U.S. Air Force, UCF's Director of Emergency Management Jeff Morgan applied his security experience to help develop an MNS for the university.
"I like to refer to what we needed as layers in an onion," Morgan says. "We wanted a mass notification solution that had several layers, layers for redundancy. It is important to design a system that is both integrated and redundant for several reasons.
"First, integration enables faster notification through all of the MNS solutions, from outdoor warning systems to mass e-mails and from digital display signs to in-building notification systems. We were looking for a one-button, simple solution. Secondly, it's just more efficient. We know that our dispatchers can be overwhelmed in an emergency, and we wanted something easy for them to use, clicking the mouse a couple of times versus signing in four or five different systems. Thirdly, the redundancy aspect allows us to reach out to faculty, staff, students and guests in more than one way," Morgan explains. 
Relying on just one technology could result in a large part of the population not receiving the message. 
Step-by-Step Approach
University officials first looked at their current infrastructure and identified communication systems that were already in place. They discovered that UCF's phone systems were not designed for reliability in contacting the masses and e-mail was the only system being used at the time. However, they did find that they could use existing voice capable fire alarm control panels (FACP) to save on equipment and installation costs for indoor notification.
"One of our benefits was that we didn't have a bunch of disparate communication systems that needed to be integrated," says Morgan. "We could basically start from scratch." 
Searching for vendors was the next step. Liability was an important factor in the search. UCF started looking for vendors with approved MNS products from the Department of Homeland Security's Support Anti-terrorism by Fostering Effective Technologies Act (SAFETY Act), which would provide legal liability protection for the institution in the event of a terrorism act. Eaton's Cooper Notification business was the only vendor that had this certification for an MNS product, which included WAVES In-building and Wide-Area MNS solutions.
Morgan says that since the university borders two counties – Orange and Seminole – he reached out to them to see what type of public warning systems they had in place. Both counties utilize the Roam Secure Alert Network (RSAN) emergency text and voice alerting system, also provided by Eaton's Cooper Notification.
"Using RSAN seemed like a natural fit so that we could tie our system to the county systems," adds Morgan. "Located near UCF is Valencia College, which also utilizes RSAN, it was the best solution for all to have one integrated and interoperable emergency communications system. The fact that RSAN could be integrated with the WAVES was also a critical factor in our selection process."
Through Cooper Notification's Roam Secure Information Exchange (RSIX), UCF and Valencia RSAN systems can share in real-time daily information and emergency messages between campuses as well as with the Orange County system, OC Alert and Seminole County system, Alert Seminole. RSIX can help mobilize additional resources when needed and improve situational awareness. It also connects campus and county officials to local information sources (traffic, news, National Weather Service and monitoring systems) to automate alerting.
Opt-Out Registration
At the same time, the university began further developing their current emergency operations guide into a comprehensive emergency management plan, which includes communication directives and a list of who has authority to send messages.
One element they added was how they were going to get students, staff and faculty to sign up for UCF Alert (emergency.ucf.edu/ucfalert), the emergency notification system powered by RSAN.  Morgan says that when they conducted research on either choosing an opt-in or opt-out option, they found that with opt-in, only 20-30 percent of students would sign up for e-mail and text message notifications. This required students, faculty, and staff to log onto the website themselves and fill out their contact information.
"We chose an opt-out option, in which we signed up 100 percent of the UCF community," he says. "Every student, faculty and staff member is initially signed into the system. They can then choose to opt-out at their discretion."
As of March 2012, the university has 67,883 enrolled on UCF Alert, which includes faculty, staff, students, county personnel and local first responders.
All About Integration
While UCF was implementing UCF Alert, it began installing WAVES high power speaker arrays on the campus for exterior voice alerting. This intrusive system sends out emergency messages in real time and has the capability of alerting the entire campus or individual areas, depending on the scope of the emergency. 
There are currently four HPSAs providing emergency notification to the 1,450-acre plus academic campus. Two more will be added by the end of the year, plus a mobile speaker array that will be used for special events and football games. HPSAs function as an integral component of the WAVES system controlled by its integrated base station (IBS), which issues commands and provides data messages to the WAVES transceivers, relaying the messages to the HPSAs.
Utilizing Existing Infrastructure
Next, the plan was to integrate 30 buildings that have the voice-capable FACPs with WAVES so that the indoor and outdoor notification systems could be activated through one system. By installing digital wireless transceivers within the buildings to connect to the FACPs, this allowed the university to use existing infrastructure and save on installation costs. With five buildings in the works and three new buildings under construction, there will be a total of 38 integrated buildings by the end of the year.  Currently, one outdoor digital display sign has been integrated with the MNS, and the university is looking to integrate it interior signs as well as 300 desktop radios, and the campus' television and radio stations.
Involve Wide Variety of Campus Departments
"It's important to bring various departments together, including IT, police, building code, fire marshal, fire code, facilities improvement and maintenance, and involve them in the design of your system," Morgan says. "For example, IT was critical to the type of system that we were selecting given the fact that they control all of the wireless frequencies on campus. During football games, we have a lot of television and radio broadcasters on campus. We required a secure, wireless system, like WAVES, that will not interfere with other wireless systems no matter how large our special events are."
Morgan adds that they also needed buy-in from the university police department in order to host and manage the integrated base station (IBS) as well as participate in exercises and drills. The code department needed to know what was going into and onto buildings to help get proper plans and documentation signed off to allow the project to stay on schedule as well as meet all code and university standards. 
Funding MNS
With UCF's proactive approach, the university funded the majority of the MNS through university funding. However, for the five additional indoor notification systems that are currently being installed, UCF is utilizing a grant from the Florida Department of Education. In addition, the UCF construction standards were revised so that any new facility will have an indoor MNS installed and will be covered under the new construction funds.
System Warns of Life-Threatening Situations
"Our rule for sending out messages is that we don't send out a notification unless it's life threatening or has a large impact on our campus community," says Morgan. Since UCF has had its integrated MNS in place, the university has issued alerts for tornado and severe weather warnings.
According to Morgan, the system was also used during a bomb threat in one of the parking garages on campus. UCF sent text messages to the entire campus community to inform them to stay away from the garage until it was deemed safe by emergency personnel. WAVES indoor MNS was used to send isolated alerts to those staff and students located in the buildings, surrounding the garage to stay indoors until they received further notice. Once the situation was safe, the indoor MNS also issued notification to let those in the buildings know it was safe so that they could return to normal operations. 
By integrating RSAN, WAVES and other systems into one user-friendly solution, UCF campus officials can now communicate to everyone via a single, secure, interface. 
"Cooper Notification's interoperable system allows users to focus on the emergency at hand, not getting bogged down with utilizing multiple systems," Morgan says. "With the click of mouse, our mass notification solution allows dispatchers to deliver live or recorded event-specific messages within seconds to sirens, indoor and outdoor speakers as well as cell phones and e-mail."