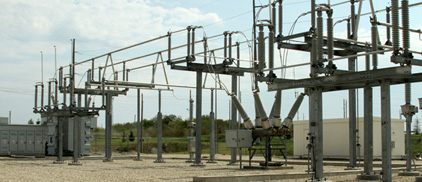 Gardner Energy runs three energy substations that power a community of 20,000+ residents. 
Gardner Energy is an electric utility company that has served Gardner, Kan., a suburb of Kansas City, for more than 100 years.
Copper theft and crime continued to challenge their operation. After vandals entered a substation during a holiday weekend and damaged the control boxes, the utility board decided to consider options to upgrade security to protect against future threats. In 2008, thieves successfully stole tens of thousands of dollars worth of material from a storage yard. Two years later, vandals broke into a substation attempting to steal copper conductors from an operations area. They cut the lock off the control cabinet and tampered with the controls in order to de-energize the conductors that they were trying to steal. Doing so, they cut power to approximately a third of the town.
The IP cameras Gardner had deployed took video of the 2008 and 2010 incidents, but there were no automatic alerts set up.
In considering upgrades to the security system, the utility looked at several different camera systems, both monitored and unmonitored, along with a motion sensor system. It opted for an upgraded video security solution because officials determined that it presented the most reliable method to avoid false alarms and help the utility prevent future incidents of theft and vandalism.
The Solution
VideoIQ cameras deliver full 1080p resolution and 30 fps, zero bandwidth recording, full megapixel analytics and support for IQTrackTM – automatic digital PTZ zoom and track. With 250GB of video storage onboard each camera, Gardner's deployment eliminated the need for expensive, separate high-capacity networks – reducing costs, system complexity, infrastructure, time and resources. The implementation included View, advanced video management software that monitors the health and alarm status of cameras and encoders, provides live viewing of images tracked, alerts operators to potential threats automatically and rapidly searches recorded video for incidents, object types, and particular individuals.
The Results
Sites monitored 24/7/365 by utility personnel and a contract alarm service.
No reported incidents of vandalism or theft since installation.
System accurately identifies and tracks people in regions of interest and sends timely alert notifications to security personnel.
Real-time analytics help prevent vandalism immediately