Infrastructure:Electric,Gas & Water
Fracking Re-energizes Industry, Calls for Some Unique Solutions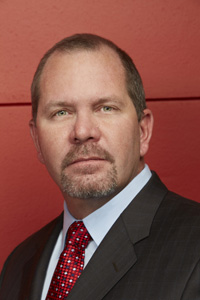 IT centric expertise is critical since enterprises seek to leverage their IT infrastructure to create additional reliability and cost savings for their security systems, comments Chris BenVau, senior vice president enterprise solutions at Protection 1. Photo courtesy of Protection 1
A slang term for hydraulic fracturing. Fracking refers to the procedure of creating fractures in rocks and rock formations by injecting fluid into cracks to force them to open further. The larger fissures allow more oil and gas to flow out of the formation and into the wellbore, from where it can be extracted.
Fracking has resulted in many oil and gas wells attaining a state of economic viability, due to the level of extraction that can be reached.
Petroleum engineers have used fracking as a means of increasing well production since the late 1940s. Fractures can also exist naturally in formations, and both natural and man-made fractures can be widened by fracking. As a result, more oil and gas can be extracted from a given area of land.
The practice has re-energized oil and gas operations in Texas and has added to the security mission beyond more traditional oil and gas facilities, according to Les Paul Vernon, senior director integrations, Suntera Security, Fort Worth, Tex. Last fall, Protection 1 acquired Suntera, observes Chris BenVau, senior vice president enterprise solutions at Protection 1.
"Many well sites are in and around metro areas so there are safety as well as security needs," says Vernon, who works with diverse stakeholders to meet local, state and federal regulations on the various projects. "It is essential to understand the fracking business with high noise levels." He often uses IP video integrated with portable audio detection to measure the on-site decibel levels, squeezing an operations requirement along with security.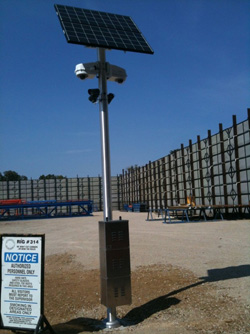 Often with a lack of electricity at remote site including fracking operations, solar as an alternative energy source works well and doesn't need additional land owner permission. Photo courtesy of Protection 1
An IT centric viewpoint pays dividends. "There is credentialing when it comes to physical access control," often working through Active Directory, says Vernon. "There is the need in some cases for a wireless infrastructure." And video analytics plays a key role so an enterprise gets reliable, actionable information. And when it comes to application of megapixel cameras, Vernon suggests that end users think in terms of field of view with pixels per foot.
As with some other remote sites related to critical infrastructure, there sometimes is no electricity at remote fracking sites. "That is often where solar comes in handy. And there is no need to negotiate with land owners for a solar install."
Adds BenVau, existing and future clients are looking to leverage their IT infrastructure to create additional reliability and cost savings for their security systems. Among Protection 1's energy clients: XTO Energy and ExxonMobil, to name a few.


I want to hear from you. Tell me how we can improve.