Infrastructure:Electric,Gas & Water
From Barricades to Booths, Balancing Convenience and Security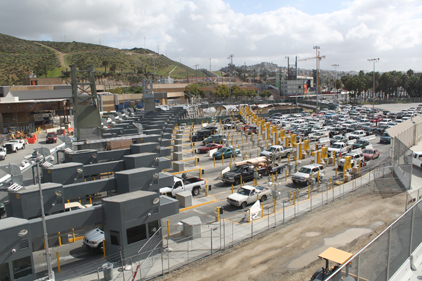 Bullet-resistant guard booths, K4-rated swing gates, barriers and bollards are integrated to provide secure but convenience traffic handling at the San Ysidro (Calif.) Landed Port of Entry. Photo courtesy of Delta Scientific
Low tech can play an essential security role in protecting many critical infrastructure sites.
For example, the United States Department of the Interior's Bureau of Reclamation uses swing beam barricades (Delta Scientific) to protect the nation's water diversion, delivery, storage and hydroelectric generation projects. The bureau installed the anti-terrorist barricades at many of the nation's best-known damns to close off one or two lanes of a roadway and provide counter terrorist level protection against vehicle attack. Crash tested, such barricades stop a 15,000-pound (66.7 kN) vehicle traveling 50 mph (80 kph) with zero penetration, equivalent to 1.2-million foot pounds of kinetic energy.
In another application, fifty custom-design bullet-resistant guard booths, K4-rated swing gates, barriers and bollards have been installed as part of the refurbishment of the San Ysidro (Calif.) Landed Port of Entry, the busiest land port in the world. Located between San Diego and Tijuana, the port processes an average of 50,000 northbound vehicles per day, the most of any landed port in the world. The majority of the traffic lanes will ultimately have two stacked bullet-resistant inspection booths for northbound traffic, effectively doubling the capacity of the 24 existing booths. The highly energy-efficient structures have a photovoltaic and Ethylene Tetrafluoroethylene (ETFE) roof structure that shades cars and officers. It also provides for rain and sun protection for the officers in booths. Because of its translucent nature, it allows for natural light thereby requiring no artificial lighting during the day.


I want to hear from you. Tell me how we can improve.