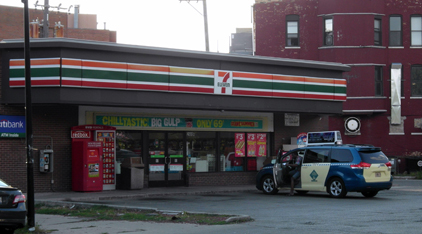 Security improvements at convenience stores, including clearer view in, little cash on hand and ever-moving clerks, mean robbers more often avoid the properties. City and state ordinances and laws also can mandate a higher level of protection. The parent of 7-Eleven stores pioneered a study to determine better crime prevention measures, thanks to involvement of convicted robbers. Photo courtesy of Zalud Report
Back in the day, convenience stores were as convenient to robbers as to customers. It once was estimated by law enforcement officials that six percent of all robberies of businesses in the U.S. involved convenience stores.
While robbers still target these retail establishments, frequency as a percent of total establishments has diminished and rare violent incidents even more rare.
There are three turning points. First, the industry as a whole and specifically Southland Corporation (Then owner of 7-Elevens; today, it is Japan's parent company Seven & I Holdings Co.) gathered data on robberies and helped bridge the gap between franchisees and local law enforcement. Uniquely, Southland concentrated its research effort by interviewing hundreds of convicted felons who robbed convenience stores. The outcome: a better mix of policies, procedures, technology and training. Second, local and state-wide ordinances and laws mandate security actions, often during overnight hours of operation. Most controversial: Mandating two-person staffing after regular business hours and even more security after an incident leading to an injury or death. Third, the industry and groups such as Crime Stoppers, separately and at times together, quickly post sizeable cash rewards to catch offenders following an incident.
While not the first off the block, Florida has a particularly aggressive statute, which is often referenced and mirrored by other governments. Its Convenience Business Security Act imposes specific requirements on those who maintain convenience stores that operate between the hours of 11 pm and 6 am, implementing certain adequate security measures in and about the store to prevent foreseeable crimes.
Moreover, if one violent felony has occurred on-site at a convenience store or gas station such as a robbery or murder, the act mandates enhanced security measures, such as security officers, pass through windows and the like, for operation after 11 pm.
In its study, Southland learned that the robber-to-be rides back and forth, checking out the store from the street before he enters. He seeks out the store with the best profile for his needs. The robber likes stores in which the clerk is always in his station; this gives him the advantage of predictability. It is disconcerting, the subjects said, not to know where the clerk will be when they go into the store. So 7-Eleven instructed its people to keep walking around in the store, stocking and cleaning, when no customers are around.
The study revealed that the robber fears detection from the street, so Southland moved its cash registers to the front of the store and took down posters from store windows and doors in front of the cash register to give high visibility. It increased interior lighting. Clerks were told to wear their colorful smocks at all times so that anybody stopping by could easily identify the clerk and see that all was well. And since a robber likes to park behind the store, Southland built its stores, whenever possible, with no parking area behind.
But the biggest challenge Southland faced was dealing with its money. The data from the ex-convicts was plain: They go where the money is; they don't rob a store that has no or little money. The solution: a drop slot into a time-release safe and procedures to ensure a certain very low level of cash. More recently, growing use by customers of debit cards has also helped. Likewise, Southland concluded, security must not be hidden.