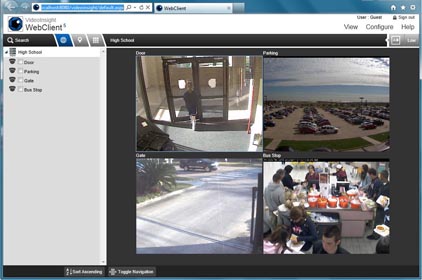 The Austin Independent School District was looking for a VMS to work with its existing cameras.
Known for its music scene and for being proud to be "weird," Austin is more than just the capital city of Texas, it is home to the 38th largest school system in the United States. Encompassing 230-square miles, Austin Independent School District (AISD) has 86,000 students, 11,000 employees and 124 campuses.
This large district requires dependable video management software to provide video monitoring, recording and the ability to review incidents in an easy and rapid fashion. School districts often move employees from campus to campus, meaning IT administrators spend a considerable amount of time with user maintenance. A reliable Web client is more economical than installing — and uninstalling — thick VMS clients on each PC.
AISD found, however, that their 3,000-camera, 50-server system came up short in these all-too-important areas. "We were unhappy with the platform we had and needed a more practical solution — something easy to use," says AISD Police Department's Wayne Russell.
Video Insight was the only solution that worked seamlessly with the district's existing cameras and provided a dependable Web client, says Video Insight Chief Technical Officer James Whitcomb. Video Insight's open architecture, ease of use and features developed specifically for multiple campuses made it the perfect solution for AISD.
How did Video Insight improve the Austin ISD's existing system?
-          Powerful Web Client replaced having to install thick clients at each PC
LDAP Integration.
-          Image Quality is now at maximum resolution with existing hardware.
-          Storage Capability doubled even with maximum resolution.
-          System Performance is faster and more efficient with Video Insight's distributed architecture.
-          Wide Camera Support includes 1,700 camera models from 80 manufacturers.
-          No training required.