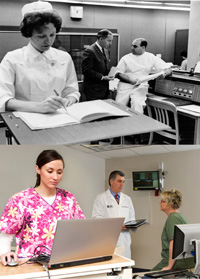 Computer and communications technologies, coupled with physical and logical advances in security, have vastly improved the keeping and protection of healthcare records. Fifty years ago, IBM and Akron Children's Hospital of Akron, Ohio, (pictured at top) pioneered the first electronic medical records. Ahead of its time, the system reduced paperwork and centralized patient records, replacing a labyrinth of pneumatic tubes and dumbwaiters that shuttled paper documents around the hospital. To commemorate the milestone, Akron Children's Hospital employees Hali Ramsey, RN (left); Anton Milo, MD; and Cindy Hartman, LPN; recreated the historic photo to illustrate the promise of applying analytics technology to digital healthcare information using a laptop PC and an iPad tablet computer.
No matter lessons learned from previous incidents, healthcare facilities continue to embarrassingly report laptops and flash drives containing patient information misplaced, lost and stolen, even in the face of increased regulatory procedures demanding more and better security through the Health Insurance Portability and Accountability Act of 1996 and the more recent Health Information Technology for Economic and Clinical Health Act.
A case in point: A laptop computer with a spreadsheet containing certain patient information was recently stolen from Landmark Medical Center in Woonsocket, Rhode Island. The hospital sent out a letter to affected patients that said the computer was set up in a conference room within the hospital and was used by authorized employees only. It also said the information was being used as part of a study to decrease wait time in the hospital's emergency department. A statement from the hospital said in part, "We have reviewed and amended protocols to ensure that this will not occur again. We have proactively reached out to all affected patients."
In another incident, ultrasound images and personal data for about 14,000 patients who visited facilities in Rhode Island and Massachusetts years ago have disappeared, but officials at Women & Infants Hospital said there is no indication that the information was improperly accessed or used. The hospital said that it cannot find unencrypted backup tapes containing ultrasound images for patients who visited walk-in facilities in Providence, Rhode Island, and in New Bedford, Massachusetts. The tapes contain data for nearly 1,200 patients in Providence and about 12,800 patients in New Bedford.