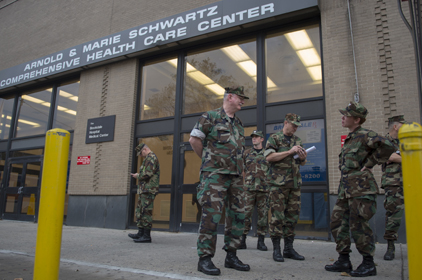 From bomb threats to natural disasters, a key to success is for healthcare security and safety executives to work with numerous agencies ranging from local law enforcement to the Federal Emergency Management Agency. Pictured: The U.S. Public Health Service Rapid Deployment Force 2 was deployed to Brookdale Hospital Medical Center in Brooklyn, N.Y. at Arnold and Marie Schwartz Comprehensive Health Care Center for two weeks providing care to nursing home patients displaced by Hurricane Sandy. Photo by Mass Communication Specialist 3rd Class Patrick Ratcliff, USN
For healthcare security executives, bomb threats often come out of the blue or from disgruntled current and former employees. But some can come from a disgruntled patient.
For instance, just two days after a woman was arrested and charged with threatening to bomb Beverly Hospital in Massachusetts and kill public safety officials, a Gloucester man was in custody for allegedly making a similar threat to bomb the hospital.
The man said he was dissatisfied with treatment at the hospital. Hospital security personnel told law enforcement officers that the man had called to complain about a previous visit and allegedly made reference to the woman's actions before directly threatening the hospital himself.
There are some accepted and effective ways to handle a telephoned bomb threat. Among suggestions:
Remain calm. Keep the caller on the line for as long as possible. DO NOT HANG UP, even if the caller does.
Listen carefully. Be polite and show interest.
Try to keep the caller talking to learn more information.
If possible, write a note or send an email to a colleague to call the authorities or, as soon as the caller hangs up, immediately notify them yourself.
If your phone has a display, copy the number and/or letters on the window display.
Complete a bomb threat checklist immediately. Write down as much detail as you can remember. Try to get exact words.
The U.S. Department of Homeland Security has a complete checklist that can be downloaded at http://emilms.fema.gov/is906/assets/ocso-bomb_threat_samepage-brochure.pdf.