In Oxford, Penn., a group of passionate and dedicated leaders from the community and local Chamber of Commerce joined together under Oxford Mainstreet, Incorporated, to create revitalization project for the area's downtown commercial business district. The plan was for historic downtown Oxford to become an extended arm of the Oxford Area Chamber of Commerce and serve as the catalyst to unify and partner with supporting organizations. The group also wanted to promote and foster economic growth and stability within the Business Improvement District, while preserving downtown Oxford's rich historic and cultural identity.
Downtown Oxford is surrounded by five municipalities and has a population of about 5,000 residents. The Business Improvement District is about a mile long by 10 blocks wide. There is a large Spanish culture within Oxford which sometimes causes a language barrier between the residents, business owners and visitors.
There are about 100 properties and 115 businesses that serve an average of 27,000 visitors a year. A new shopping center was also recently opened at the edge of town which OMI hopes will bring more individuals to the Business Improvement District.
The Challenge
Local residents enjoy coming to the downtown historic area to shop, dine and be with friends and family. However, the younger residents can sometimes cause issues including loitering, graffiti, fighting and riding their bicycles, skateboards or scooters where they are not permitted.
Sue Cole, OMI's executive director, knew that they had a special situation and needed a way to continue growing the reputation of the area, and be welcoming to all individuals, but still enforce the rules and regulations. This was especially important with the potential for increased tourism due to the new shopping center.
"The business owners, in particular, wanted a constant physical police presence in the business district but due to financial reasons, we could not contract with the local police department for additional services," says Cole.
"It's our goal for Oxford to develop into an attractive location for investors, property owners, business owners and residents of all cultures, and become a destination point for many visitors from all over. We strive to be a central community hub for Oxford and Chester County, and we always want individuals to feel safe when they are here," Cole says. OMI was truly looking to embrace the local community and build a bond between all individuals.
A Business Improvement District faces specific security challenges that result from its geography, accessibility and a range of visitors. OMI knew they needed a security solution to accommodate their needs.
The Solution
"We contacted neighboring Business Improvement Districts to ask about their situation and gain their insight and suggestions," said Cole. "They had a great security program and relationship with their security provider, and recommended that we meet with them to find a solution together."
In 2011, OMI met with AlliedBarton Security Services, the security provider for the other Business Improvement Districts that Cole and OMI had consulted.
"We understood OMI's need to bring together the mixed cultures, to keep the area safe by establishing a constant security presence, and to grow Oxford into a tourist destination," says Kris Herter, AlliedBarton's operations manager. "Even though OMI was unable to contract with the local police department to provide services beyond their normal duties, we knew that the police department was willing to work with whatever solution OMI identified."
AlliedBarton proposed hiring one security officer to patrol the downtown area to help with pedestrian safety, enforce the rules and regulations and build the reputation of Oxford. It was also important that this individual was sensitive to all cultures to make everyone feel welcome.
"Once OMI agreed to our plan, we started looking for the right individual for the position," says Herter. "After searching for a month and a half, we found the perfect applicant who was bilingual, a security and protective services graduate, and certified in CPR and First Aid. He was an exact match for the position."
In January of 2012, Miguel Jimenez became the Business Improvement District's first security officer. He works during the day and into the evening hours when the downtown area is bustling with foot and vehicle traffic. He can also adjust his schedule to cover special events.
Referred to as the downtown ambassador, Jimenez currently conducts a walking patrol through the area. He has a direct connection to the local police department and acts as its eyes and ears in the area.
"Miguel is the liaison between the Business Improvement District and the police," says Herter. "If there is ever a situation, he can immediately contact the police and they will assist."
The responsibilities of Jimenez vary, but his ultimate goal is to detect and deter crime, assist visitors and residents, and be a constant security presence.
"Miguel is great with providing directions, referrals or other assistance when necessary and can communicate with visitors in English or Spanish," says Cole. "He can also respond to safety concerns and explain borough ordinances, rules and regulations."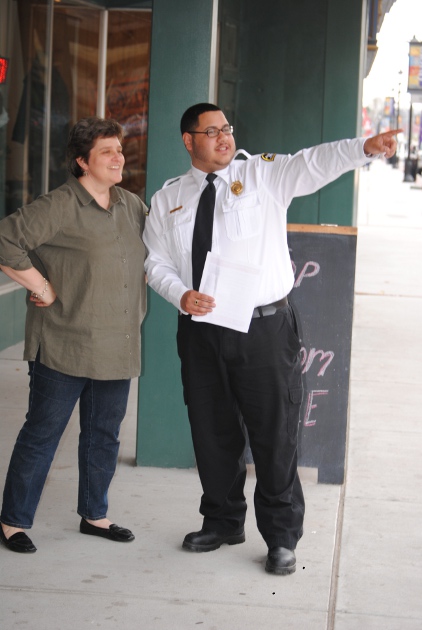 Miguel Jimenez became the Business Improvement District's first security officer in January 2012, serving as the "downtown ambassador."
The Result
The AlliedBarton security program is meeting all of OMI's expectations.
"AlliedBarton was able to meet all of our specifications, especially when finding an employee for the position," says Cole. "Everyone from AlliedBarton who has worked on this account has made sure we are being provided the services that we expect. In fact, AlliedBarton has gone above and beyond for us."
She continues, "Even though AlliedBarton is a national company, we have the local response that we need on a daily basis. I can always reach the local team to discuss issues, concerns, suggestions and feedback. We have an excellent security program because of AlliedBarton's great attention to detail."
The business owners, residents and visitors have all taken a liking to Jimenez and his services.
"The business owners appreciate the constant presence that he provides, especially in the evening hours," says Herter. "He has also built a relationship with the younger residents and can educate them on the rules. They have been very receptive to learn more from him and they now feel that he is their bridge between communication barriers."
The local police department is also pleased with the services Jimenez provides.
"Without our local police department working together with AlliedBarton, we would never be able to reach our goals with this security program," says Cole. "Miguel is helping Oxford keep the small town charm that we are known for, but also keeps everyone safe. We are truly a village and everyone has to work together to reach the ultimate goal of success and growth for the town. Even though our Business Improvement District is only 10 blocks, we still have a lot to offer our residents and visitors, and Miguel helps individuals enjoy their trip to Oxford."