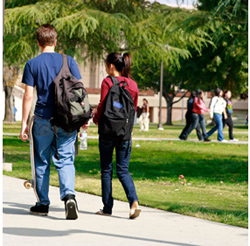 The Virginia Tech mass notification system was effective during a shooting incident in December. Scores of colleges have upgraded to simple, reliable and effective emergency communication. Photo courtesy PRNewsFoto/Omnilert, LLC
Hours after the December 8 on-campus murder of a Virginia Tech University police officer and the suicide of his killer were resolved, one media outlet turned to how and how well the university got the word out as the emergency progressed. Based on university, law enforcement and expert comments, the mass notification worked well.
The warnings this time proved fast and numerous as four warnings were given in the first hour after the officer was reported shot. For example: "From VT Alerts: Gun shots reported - Coliseum Parking lot. Stay Inside. Secure doors. Emergency personnel responding. Call 911 for help." Ten minutes later: "Suspect described as white male, gray sweat pants, gray hat w/neon green brim, maroon hoodie and backpack. On foot towards McComas. Call 911."
Virginia Tech, as with many other colleges, now has a system that sends alerts to message boards in classrooms and dorms, and text messages to cell phones and other digital devices that students, staff and faculty members have registered with the system. It also communicates warnings through Twitter, Facebook and online video.
No doubt, "the communications systems we have today did not exist on April 16, 2007 (the date of the biggest mass killing on a U.S. college campus)," University President Charles Steger told the media. The school said six alerts went out, all told, including one saying the crisis was over and it was safe to go outside.
Ironically, on the very day of the December incident, the university was scheduled to contest $55,000 in Department of Education fines for allegedly not informing everyone quickly in the 2007 episode, saying it acted appropriately in alerting the campus in what became the deadliest mass shooting in modern U.S. history. The government disagreed, contending the school was too slow in notifying students, faculty and staff and in violation of the Clery Act.
Mass notification has become more important. However, a number of colleges and universities still have not significantly improved systems or procedures.