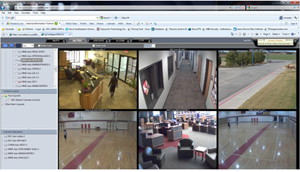 Maize Unified School District in Kansas installed more than 250 Axis IP cameras throughout its 10 school locations. 
The Maize Unified School District 266 (USD 266) serves more than 6,500 students in its five elementary schools, two middle schools, two high schools and alternative high school. Student and staff safety is a top priority at the district, which spans 42.5 square miles throughout Maize and Wichita, Kan.
One of the high schools in the district had limited video surveillance and door access control deployments, but they were costly to implement, manage and maintain. The IT department could not centrally manage the system and video was stored on an outdated workstation acting as a server, making it time-consuming to find a particular incident. Maintenance costs were high because the work had to be outsourced to a service provider. USD 266 needed a more cost-effective and collaborative physical security system that it could extend district wide.
The district had already invested in a solid IP network infrastructure for its educational and communication needs, making it the ideal platform for video surveillance and physical access controls. Leveraging this network, the district deployed more than 250 Axis IP cameras in its high schools, middle schools and administration buildings. All cameras are monitored through ipConfigure Enterprise Surveillance Manager (ESM) software in the central data center office.
With ipConfigure ESM, school resource officers, principals, assistant principals and the superintendent are able to view live and recorded video from any camera using a Web browser. In addition, designated staff can view video remotely with any Internet-connected device, such as an iPhone. USD 266 also can grant secure, password-protected access to local police departments during an emergency situation. The new system frees up school resource officers to patrol other areas of the campus, increasing coverage without additional costs.
There are plans to add more video surveillance cameras and door access controllers in the near future to create secured entrances, particularly in the elementary schools. Parents have responded positively to the current and future security and surveillance steps taken by USD 266.