Industry Innovations
Brings Emergency Assistance Stations to Remote and Urban Areas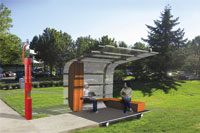 Installing Emergency Assistance Stations (EAS) and surveillance cameras in remote and difficult locations can be costly, time-consuming and disruptive. Yet it is these areas that oftentimes benefit most from the added safety of these security elements — connecting students on playfields to campus security, employees in parking lots to security personnel and trail users to the nearest emergency responder. Solar Secure has a solar-powered security product designed to enable the deployment of EAS and cameras with renewable, redundant energy sources and wireless communications. The product can be installed anywhere, bringing security coverage and wireless communications to otherwise neglected remote places such as parks and trailheads, and to urban areas including educational, corporate and healthcare campuses. The product generates all of the energy it needs to power its components and the associated EAS from solar panels. Hydride fuel cells are also included as a backup power source. Because it is net zero energy and operates via wireless communications, installation does not require trenching or extensive site preparation. It is currently available in three models – SunStation, SunBench and SunTower – each of which can be customized based on necessary capabilities, location, existing infrastructure and standards.
Find out more at www.solarsecure.net
For free information enter number 301 at www.securitymagazine.com/webcard


I want to hear from you. Tell me how we can improve.