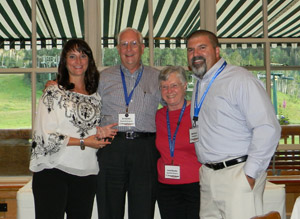 Jennifer Birkholtz (left), SecurityXchange director, recognizes Ed Chandler, chairman of Security By Design Inc., and Lorna Chandler, chief executive officer of Security By Design Inc., for their long-time participation (nine years) in the SecurityXchange. Joining them is Matt Spencer (right), chief operating officer of VerticalXchange and founder of SecurityXchange.
SecurityXchange, held this year in Park City, Utah, has come a long way since it was founded shortly after 9/11. Every year, the event gathers integrators and manufacturers together for targeted meetings focused on relationships, both establishing new ones and building into existing relationships, as well as finding new technology solutions. This year, more than 325 scheduled meetings occurred during the event — in addition to the impromptu meetings over lunch, dinner and drinks.
As the event's founder (and the chief operating officer of VerticalXchange, SecurityXchange's parent company) Matt Spencer is very proud of the event's growth.
"SecurityXchange started in the shadows of 9/11. Obviously security was top of mind for everybody at that time," Spencer recalls. "VerticalXchange was a brand new company at the time, and it wasn't the best time to be starting a new venture, but we waded in and chose security as our first vertical. Our first year we brought in 13 manufacturers and 16 integrators, so it was relatively humble beginnings, but the early feedback was very positive. The whole concept was to assist systems integrators and help them grow by providing a tool to help them increase their businesses and make them stronger."
SecurityXchange is decidedly an event that does things its own way, discarding the frenzy found at large shows like ISC West and ASIS for the order and quiet of scheduled, targeted meetings located on a mountain resort during the calm of summer.
Brad Wilson, president of RFI Communications and Security Systems headquartered in San Jose, Ca., shared, "The whole underlying theme of this event is an optimization of time and resources that lets attendees migrate to an increasingly strategic position. When meeting with manufacturers here I can have conversations about where they are investing. They can give me indicators of their strategic road map so we can work better together moving forward," Wilson said.
This year SecurityXchange expanded its relationship-building potential, inviting end users to the event for the first time in a new program called Client Partnership.
 According to SecurityXchange, the end user candidates are those that already actively get involved in technology decisions and want to have a direct dialogue with manufacturers to understand their options more clearly. The program is designed as an opportunity to provide another resource for attendees.
"We thought we would try to incorporate end users in our process. Incorporating them in an entirely separate Xchange seemed cumbersome, so we thought, let's bring everyone together and have them all play nicely in the same sandbox, so to speak. So far we have been pleased with the results and hope to continue to do it and keep the concept moving forward," Spencer shared.
Wilson said the new program added a useful dimension and only increases efficiency for attendees.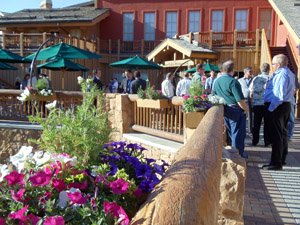 Attendees gather for cocktails, and networking, before one of the dinners at SecurityXchange held in Park City, Utah, August 7-10.
"The opportunity to have end users attend hits the target. Because many of the integrators here have large, complex projects, their end users are very active in the technology selection. When we bring along a client [end user] to a meeting with a manufacturer here, and the manufacturer participates in presenting the technology, that adds more value to the relationship we have with the manufacturer. We can discuss the technology right away with out client, show how it integrates and take a deeper role as more of a trusted adviser role. Plus, it makes it more efficient use of everyone's time," Wilson added.
This year at the event's first dinner on Monday, Spencer and the SecurityXchange staff took time to recognize the people and companies that have participated long-term throughout the years, showcasing the relationships that have been built as a result of the event.
"We had humble beginnings and a lot of people have participated with us in our journey. Brad Wilson was the first person to sign a participation agreement. Long–term people like Ed and Lorna Chandler of Security by Design Inc. (pictured in photo), Matt Ladd of the Protection Bureau, and so many others have been involved from the beginning and integral for a long time. Manufacturers like HID Global and Altronix have participated in every event alongside additional long-time companies like Altronix, Ameristar Fence Products, ASSA ABLOY, Clinton and more. There are so many people to recognize. This year we presented long-time integrators and manufacturers with awards to recognize their long-time service and participation. That is the thing I think is cool about this industry; it really is a community. You get to know these people, and not just their businesses but their families, their interests and their passions."
Focusing on the future, Spencer shared, "If you look down the road, I would like the event to be as vibrant and valuable as it possibly can be. We are never going to be a massive event like ISC West or ASIS, and we don't want to be. Our intention is to remain a valuable resource where people at a very high level can get business done in a very effective way. — By Heather Klotz-Young, Senior Editor