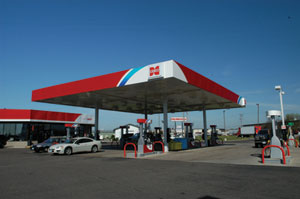 For convenience stores, often connected with gas stations, there are common sense measures as well as effective technology that combine to minimize risk. Photo courtesy PRNewswire/Newscom
State Regulations Dictate Convenience Store Security
After numerous robberies of convenience stores, some tragically ending in the murder of staff or customers, a number of states enacted legislation to encourage store owners to institute security measures.
Florida pioneered with the Convenience Business Security Act. Among its provisions, it encourages training for local law enforcement officials and certifies officers in the area of convenience business security so they can conduct security audits.
The act established minimum security standards for the operation of convenience businesses at facilities open any time between 11 pm and 5 am.
Minimum security standards include:
Training in robbery deterrence and safety for each employee, conducted through an approved curriculum.
Lighted parking lot.
Notice at the entrance that the cash register contains $50 or less.
Height markers at the entrance.
Window sign placement allowing an unobstructed view of the sales transaction area from inside and outside the building.
A security camera system that is capable of retrieving an identifiable image of an offender, including an annual test photo and a maintenance log showing maintenance every four months.
A silent alarm.
Convenience businesses at which a murder, robbery, sexual battery, aggravated assault, aggravated battery, kidnapping or false imprisonment has occurred in connection with the operation of the business must have one of the following additional security measures in place between the hours of 11 pm and 5 am:
At least two employees on the premises at all times.
A secured safety enclosure made of transparent polycarbonate.
A security guard or off duty law enforcement officer on the premises.
Locked premises with business conducted through an indirect pass-through, trap door or window.
Retailers: More Aggressive Migration to IP Video
Digging slowly out of the economic slowdown, retailers, especially the largest chains, are more aggressively moving to IP security video, thanks in part to the increased information collection and the value of analyzing the data.
According to a white paper by Milestone Systems, with assistance by Axis Communications and special expertise and data provided by Dr. Read Hayes, director of the Loss Prevention Research Council, IP video surveillance brings the advantages of network cameras and IP networking to video surveillance. Using digital cameras, it gives loss prevention directors sharper color video, greater coverage and better zooming capabilities. Incorporating video surveillance into local area networks (LAN) makes the video collected at stores available throughout the network and accessible to third parties who specialize in retail traffic analysis.
Here are some key advantages of IP video surveillance from the white paper.
Improving Loss Prevention – The programmable intelligence capabilities of IP video surveillance and network cameras enable detection of suspicious behavior by customers or employees, reducing the need for dedicated loss prevention staff to monitor shoppers. In fact, smart network cameras may be more effective than staff. After 20 minutes or so, the average person's attention wanes watching monitors. A smart camera is always attentive. Intelligence at the camera level closes many gaps in loss prevention. IP video can be set up to:
Detect suspicious behaviors, such as a consumer taking multiple units of an item not normally bought in bulk, or a cashier deliberately not scanning a purchase.
Capture organized crime behaviors in a store and quickly communicate them to other stores in the chain
Integrate video surveillance with electronic article systems to ensure proper procedures are being followed, such as stopping customers who set off the alarm at the door.
Directly connect video with POS to uncover employee sweethearting (giving unauthorized discounts to friends) or other improper sales. For instance, video can be activated every time an age-restricted sale is made or a refund given.
Skimming Hits ATMs as High Tech Fights Back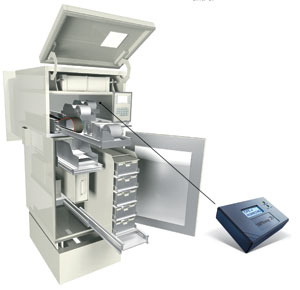 Technology inside and around ATMs fights skimming in which someone puts a data collection device over the card reader. Photo courtesy ADT Security Services
Skimming – a way criminals use high tech electronic tools to capture personal financial information and steal money from ATM customers – is one of the financial industry's fastest-growing crimes, according to the U.S. Secret Service.
In a matter of seconds, criminals can place a skimming device on an ATM card reader that blends in with the machine's appearance and does not interfere with its operation. Information from the device and camera is sent wirelessly to the criminal's laptop computer.
Criminals use the stolen data to "cash out" debit card accounts, clone duplicate credit-debit cards or sell personal financial information to worldwide crime syndicates.  
To help reduce skimming, a device is installed inside an ATM near the card reader, making it invisible from the outside. The technology helps prevent card skimming attempts by interrupting the operation of the illegal card reader and without disrupting the customer transaction or operation of most ATMs.