My Turn: An Only Slightly Cynical Dictionary of Security Terms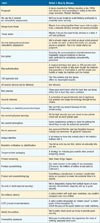 Roger G. Johnston, Ph.D., CPP, offers his My Turn only slightly in jest. He is a vulnerability assessor in physical security on the Vulnerability Assessment Team at Argonne National Laboratory in Illinois.


I want to hear from you. Tell me how we can improve.