Solutions Combined for Emergency Notification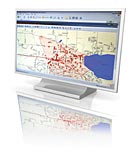 The alignment of two companies' notification technologies will help campuses and other public environments layer multiple communication methodologies. Code Blue's solution provides interactive voice communications through outdoor security phone systems, and REVERSE 911's notifications are delivered to individual phones, pagers, PDAs and e-mail. This integration gives public safety officials a comprehensive emergency communication tool. Both emergency notification solutions include interactive technology to enhance the response of public safety officials.
Find out more at
www.codeblue.com
or call (800) 205-7186.


I want to hear from you. Tell me how we can improve.