Concerns about port and cargo security continue to reverberate among port security officials, law enforcement and Homeland Security executives.
But a combination of local action, federal regulations and new and emerging technologies is tamping down the anxiety. For instance, the world changed for the Port of Houston Authority on September 11, 2001. Now, six years later, the work of making one of the world's busiest ports safe and secure has barely begun…and it will never end.
The concept of "security" has, no doubt, changed in fundamental ways for ports and harbors around the world.
The security challenges facing the leadership of America's port authorities scarcely resemble the issues that confront managers of single buildings, skyscrapers or even industrial parks. Most of the major ports are the size of small cities; they encompass a complex tangle of public and private enterprises, conflicting regulations and varying agendas. Most challenging of all, ports are specifically designed to make entry and exit easy and efficient – aspects of design that make site security most challenging.
"Prior to 9/11, security was not a top concern for most ports," said Joan Godwin, executive vice president and general counsel for the American Association of Port Authorities. "9/11 changed that, and Congress and the (Bush) Administration took quick action to help focus ports on this new risk." Almost immediately, Congress passed the Maritime Transportation Security Act, establishing broad new goals and regulations focused on port security, and allocated millions of dollars to fund the transformation. "Enhancing maritime security and protecting America's seaports from acts of terrorism and other federal crimes became a top priority," Godwin said, but things have not gone always as planned since the act was passed in 2002.

SPECIFIC SOLUTIONS
The Port of Houston Authority has worked to find its own solutions to the problems facing port security leaders across the country. Houston's issues were particularly difficult. Virtually every port in America is almost awesomely complex, but Houston is one of the biggest; and its challenges are almost fundamentally different. A 25-mile-long complex of diversified public and private facilities, located just a few hours' sailing time from the Gulf of Mexico, the port is ranked first in the United States in foreign waterborne tonnage, second in the U.S. in total tonnage and tenth in the world in total tonnage. More than 150 private industrial companies are based along the Houston Ship Channel; in 2006 alone more than 200 million tons of cargo moved through those facilities – a total of 7,550 vessel calls. And the human traffic is just as impressive: 88 steamships dock in Houston, linking the port to 1,053 ports in 203 countries. It's also home to a $15 billion petrochemical complex – the largest in the nation, the second largest worldwide and one of the region's biggest employers.
As of September 12, 2001 all of it – despite its size and porosity – had to be made secure in a whole new way.
Managing director Wade Battles appreciated the scope of this responsibility from the outset. "We have nine major terminals distributed from the Turning Basin to Bayport along 35 miles of the Houston Ship Channel," he said. "Between them, you have about 153 Maritime Transportation Security Act-regulated facilities. They handle everything from fuel to automobiles, bag cement to grain products."
Like all ports, it's not simply maritime issues that need to be addressed. There are tens of thousands of wheeled freight vehicles arriving every day, and the Port of Houston is the terminal point for rail lines that bring in and ship out everything imaginable, including petroleum coke that arrives by rail and polyurethane resins that require special handling. "It's a huge variety," Battles said. "It's a huge volume, inbound and outbound."

ALL OF IT IS VULNERABLE
From the very beginning, it became clear that the job would require extraordinary planning even before the work itself began. "First, we took a look at our vulnerabilities and prioritized those," Battles said. "Then we used that vulnerability assessment as a roadmap and we moved forward in increasing our security. It was a pragmatic but structured process – whatever is most vulnerable, let's do that first."
Battles pulled together a team that spanned administrative and operational departments. "It was a balance," he said. "We had Russell Whitmarsh, our chief of police, structural engineer Ray Attar, chief engineer Steve DeWolf and our director of finance and Administration Jim Eldridge. Linking all that together was an IT requirement, so we brought in our Management of Information Services' Eddie Fuller." Ultimately, this cooperation between all the divisions was the key to making the plan work.
Houston wasn't alone in the need for overarching planning. The Maritime Transportation Security Act required all port facilities to have operational port security plans by the end of 2004 – plans that established a baseline to protect ports from terrorist threats. "As we learn more and start to look at the vulnerabilities identified by the area maritime committees and the Department of Homeland Security's (DHS) intelligence programs, we understand more about what needs to be done and make improvements to plans," Godwin said.
But the hard work was in the details – the arduous process of making those plans into reality.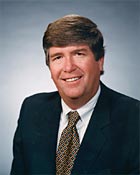 HARDENING THE PERIMETER
As the Port Authority examined its vulnerabilities, one thing became clear: Hardening the perimeter was a major issue. "It became one of our primary functions," Battles said. "That included things like increased fencing, sensor monitors on that fencing, security video, card readers, intelligent video – a whole slew of products." It was those types of infrastructure investments, more than personnel or procedural changes that would make the most difference most quickly.
Within perimeter defense, there was the matter of access control. "What do we need to do to change our access areas in order to fulfill the new mission and requirements, per the regulations?" Battles asked. "The regulations now require a varying scale of identity verification at the gates, and the ability to do spot inspections – to pull vehicles aside – to do that. That required us to literally rebuild our gates, so we could facilitate that activity."
The Port selected Los Angeles-based B.I.G. Enterprises to manufacture and deliver thirteen guard booths placed at major points of entry, including Barbours Cut and the Bayport Cruise Terminal. The guard booths were of particular interest because they were built in strict compliance with State of Texas codes.
The Port's bidding process proved B.I.G. to be qualified to produce the exact installations that the Authority required. B.I.G. booths have also been installed at other major ports, including Oakland, Calif. and Portland, Ore.
"We at the Port of Houston Authority work in a heavily commercial, mobile area. The function of our security department is that we are out in the environment and dealing with high volume traffic," said Whitmarsh on the Port's decision to select the booths. "We were looking for something that would provide protection and have good quality construction, functionality and endurance. The booths met our criteria. We're happy with our choice and look forward to putting them through the test in the years to come."
Dave King of B.I.G. added, "Pre-manufacturing guard booths are cost efficient solutions that incorporate all design considerations and code compliance issues from the onset. We bring all specialized trades together under one roof to build booths that are essentially 'plug and play' when they're transported and installed on site. This approach can add up to significant savings for our customers while providing the highest levels of security-sensitive construction."
THE NEVER-ENDING STORY
"Security is a continuous process," Battles observed. "You are always asking yourself, 'how can you further improve it?' It's like your computer – there's always a new version of the software that was brand new just last year." But he is prepared; the process of constant improvement and update is in place and already working.
For the Port of Houston Authority, for other high-security facilities and for security managers everywhere, today's security is a never-ending challenge -- a job that will only get harder and more important in the months and years to come. And the Port of Houston Authority is ready to face the future.

SIDEBAR: It's What's Inside and Outside
Modular buildings to house security officers and provide access control are available in numerous configurations, according to Thomas Duemling of Par-Kut International.
There now are custom-made bullet resistant buildings such as those that serve as a security post near airport terminals. Other enterprises choose a look that complements the facility such as the Presidential series buildings from Par-Kut and which has a colonial design. "This style is often used at older, more established facilities that have a concern for the appearance of their site and the need for the guard structure to blend in," said Duemling.
Portability is another buyer element.
A portable parking lot package, for example, incorporates gate arms, which enable the user to spot the booth at a break in a fence line and secure the access point.
Whether bullet resistant, bi-level, stand or tower-mounted, such buildings are typically equipped with electrical, climate control, finish paint in color of choice, built-in work counter and are fully assembled at the factory, including doors and windows.