The University of Toronto, a leading North American university, has earned a top grade thanks to a major security overhaul.
With a larger student population than any other university in North America and more than 200 facilities spread across three campuses, the University of Toronto is a vast and diverse institution, rich in history and culture. In addition to being internationally known and recognized for its research and teaching, the university is now a model of security because of careful, coordinated planning and integrated technology.

Of course, protecting a single building and its occupants is never an easy task.
HUGE GEOGRAPHIC COVERAGE
So for the University of Toronto, improving security was a significant challenge. With nearly 12 million square feet of space, the university had a lot of ground to cover. Plus, the volume of people created an extra layer of complexity; the university serves more than 70,000 students and has nearly 14,000 faculty and staff members.

About 50,000 students attend the St. George campus, the university's main campus in downtown Toronto. The university also has locations in Mississauga and Scarborough.

Besides its notable size, many of the university's buildings are historic and provide a monument to the university's past, dating back to the 1820s. University efforts have helped preserve the aged and artistic quality of campus buildings, but until recently, the security systems on campus were also firmly rooted in the past.
A PATCHWORK APPROACH
For years, individual buildings and university departments each took a different path when it came to security, creating a disparate, difficult-to-manage environment. Any semblance of a campus-wide system consisted of a small number of alarms running on a copper wire back to the university police station. Otherwise, buildings and departments forged their own way, leaving campus police completely disconnected.

"The previous measures were rudimentary at best," said Dan Hutt, manager of campus police services at University of Toronto. "We had a decentralized security operation, with everyone doing what they felt they should. And those efforts didn't always sync up."

One of the primary problems with this approach was the number of different alarm companies involved on campus — each with its own nuances. When it came to response time, for example, the standards varied from company to company. While one vendor might respond within an hour, others could take as long as four hours. And the alarms that did reach university police came with little information about source and cause. As a result, all alarms warranted a critical response and, many times, valuable police resources were wasted.

"Reacting to all alarms blindly is not an efficient way to manage campus security and ensure safety," Hutt said. "We needed a common security platform and process for responding to and maintaining alarms and security equipment."
A MAJOR OVERHAUL
The inefficiencies culminated in a security overhaul, beginning about five years ago. Sparked by both the police department's move to a newer building and a collective desire to update a parking garage monitoring system, the university investigated options surrounding security upgrade work. The police department also helped the university usher in a new era of security on campus, as it sought to establish a centralized monitoring system in place of the previous localized methods.

The university chose to make the change with Honeywell — and for one-third of the price it would have paid to replace the hardwired points of its old system and then gradually upgrade over time. The project centered on creating a more uniform approach to safety and security. To this end, the university installed an enterprise buildings integrator (EBI) system, a management platform that integrates core building functions, including security, life safety and HVAC equipment, for simplified monitoring from a single location. EBI serves as the backbone of the new security system and is managed by the police services department, with the department's new central station on the St. George campus serving as the technology hub.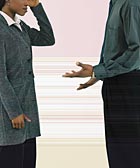 VIDEO AND CARD READERS
As part of the revamp, the university also installed a video digital manager (DVM from Honeywell), a security video system and a component of the EBI platform. DVM helped the university achieve its original goal for the parking garage — converting analog camera signals to digital feeds and eliminating the need for time-consuming, cumbersome videotapes. And because of the initial success, the system now includes more than 140 cameras spread across the St. George campus, with an additional 50 cameras in buildings on the university's Scarborough campus.

In addition to DVM, the integrated security system includes approximately 340 card readers that regulate entry into specific areas on the St. George and Scarborough campuses. The readers are integrated with DVM and tied into EBI, serving as "trigger points" for alarms and surveillance updates. When an alarm goes off, for example, the system brings up live video of the specific location, including floor plans and maps, allowing campus police to quickly isolate sources of alarms and respond to issues faster and with the appropriate personnel.

Unlike the previous technology jumble, the overhaul allows university police to view and manage all alarm signals internally. In addition, it has helped the university — specifically Hutt and his police colleagues — achieve an optimal mix of proactive and reactive security measures, reducing response time from hours to minutes. "We've gone from simply monitoring security video systems to having a very sophisticated and smart security system," Hutt said.

The new system also provides the flexibility and specificity required to match the needs of different parts of the campus as well. For some buildings, access control is primarily used to monitor after-hours access only, and the facilities otherwise remain unlocked during normal operating hours. Conversely, campus labs and other facilities with expensive equipment require higher levels of security and have more stringent access guidelines and control measures.

While campus dormitories currently do not fall under the scope of the access control system, the university may bring the entrance doors onto the system in the future — a simple task given the flexibility of EBI. Another benefit: Access cards can be programmed to fit varying security credentials, as broad or granular as necessary.

For example, the police department can issue a card that grants access to one of the research labs only from noon to 2 p.m. every day. Eventually, the university plans to provide all students, faculty and staff with a card. The cards will be tailored to the individual, and they will determine access rights throughout the campus.
AN ESSENTIAL SERVICE
In addition to a more unified security platform, the university benefits from comprehensive service coverage from the provider. As part of the coverage, the company has three on-site technicians at the St. George campus, and one technician working full-time at the Scarborough campus. The technicians monitor and maintain the EBI, DVM and access control systems around the clock, and they make sure all the equipment is up to date with the latest software patches and technology enhancements.

At the time of the writing of this article, about 40 percent of the Toronto facilities are on the new platform. All new construction and major renovation work includes the installation of additional cameras and card readers. And the university plans to eventually incorporate all existing buildings onto the security system — a task that will occur as funds continue to become available, according to Hutt.

"We've made significant strides in modernizing security and we plan to continue moving based on the results," he said.

SIDEBAR: Virginia Tech Reports Start Coming In
No incident in the last decade has impacted college and university security more than the April 16 Virginia Tech tragedy. That institution's president, Charles Steger, directed three internal reviews "to look at strengths and weaknesses of our existing systems/infrastructure and how they may be improved or augmented to address emergency situations that might arise in the future."

There are other studies coming from the state level. Steger's study was released in late August with college security experts suggesting the state study may be more critical of what happened.

In the meantime, Virginia Tech's internal investigation has value and lessons to learn.

The Security Infrastructure Group was charged with examining the university's existing security systems and recommending changes that would enhance the university's ability to respond quickly and effectively in situations where the safety of the campus community is jeopardized. This group was also directed to identify strategies that might decrease the probability of such situations occurring, looking at both technological and behavioral aspects.

The Information and Communications Infrastructure Group analyzed and inventoried the communication infrastructure and information systems used during the crisis period, evaluated their performance, and identifies tactics and strategies for improvements.

The Interface Group evaluated the relationships between the university's student counseling services, academic affairs, judicial affairs, and the legal system.

Of direct interest to Security Magazine readers, the Security Infrastructure Group found good cooperation and sound agreements between Virginia Tech and local police, fire and EMS jurisdictions including ongoing training exercises; sound emergency communications; robust communications infrastructure; a sound emergency preparedness plan; engagement of the leadership in campus emergencies; and a nationally accredited campus police department.

The security group recommended enhancements in physical infrastructure, emergency communications, emergency preparedness, and selected protocols.

Infrastructure recommendations include modification of building door hardware, installation of locks on general assignment classrooms, evaluating the utility of centrally controlled electronic key card access to key academic and administrative facilities (such as the system currently in place on all residence halls), constructing a public safety building combining the university police and rescue squad, and evaluating installation of centrally monitored video surveillance cameras.

Communications recommendations include mass notification techniques within classrooms and other locations, message board in key or high profile public areas and along major vehicular thoroughfares, a people locator system, and further articulation of the recently adopted VT Alerts notification system.

Emergency preparedness recommendations include updating the emergency preparedness plan, more frequent emergency exercises or drills, creation of building coordinators for emergencies, and identification of backups for the policy committee (university leadership with oversight of an emergency).

Protocols include increased education of the university community about appropriate emergency response actions and creation of a comprehensive security master plan and campus security committee.