While this month's cover story features five diverse facilities with five different missions but a shared focus on people, airports are another story. That's thanks in part to the very high security profile of these operations as well as the unique solutions they employ. These range from partnerships to specialized experience to focused technologies.
Just last month, for instance, the Transportation Security Administration signed an unusual three-party contract with US Helicopter Corporation and McNeil Security Inc., under the agency's Screening Partnership Program (SPP) for the establishment of screening operations to support airport shuttle services at the East 34th Street Heliport in Manhattan. The partnership highlights the spread of air transport security.

Protecting Air Space
"TSA remains committed to securing the airspace over New York City," Douglas Hofsass, TSA's federal security director at LaGuardia Airport, tells the Zalud Report. "The new commercial helicopter service from the East 34th Street Heliport will fall under the same security regulations as all commercial flights in the United States. All passengers, carry-on baggage and checked luggage will be screened to TSA's standards for commercial aircraft operators."
Matthew Finn, director, government & security solutions at SITA, has his own observations as to what makes a successful airport security program.
"The most successful programs are those which are able to strike the right balance between 'security' and 'facilitation'. This is not an easy task. But it is vital to recognize that of the two billion passengers who will fly this year, very few pose a threat to our airports or our national security."
He added, "Low risk, registered and easily identifiable travelers need to be processed efficiently and effectively so that airports can achieve optimum throughput as passenger traffic continues to grow. From a security perspective, this enables security personnel to spend more resources focusing on higher risk situations and the passengers they know less about. From a facilitation perspective, efficient processing provides for a positive and more passenger-friendly airport experience, affording the traveler additional time to shop, relax and enjoy any number of the services the airport offers."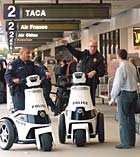 Biometrics and Biographies
A good example of airlines, airports and security working together to achieve this goal is the London Heathrow "miSense" trial (www.misense.org), which demonstrates the benefits of industry collaboration and provides the convergence of biometric and biographic data passenger screening solutions. This convergence will fundamentally change the way we approach passenger processing, border management, security screening and risk assessment going forward.
According to Finn, there are potential failures to avoid in an airport security program.
"Perhaps most importantly, security programs need to be flexible to quickly adapt and respond to new threats and vulnerabilities. Screening systems and processes must be able to detect potential hazards. And the exchange of passenger data among airline, airport and government departments must ensure that "persons of interest" are detected at the earliest possible opportunity. All of this needs to be carried out while ensuring that our security programs don't bring the airport to a complete standstill."
All chief security officers can gain from the ways that airport security executives keep up to date with regulatory and compliance laws.
Said Finn, "Security executives would benefit enormously from contributing to the debate in order to shape the agenda. Without doubt, security executives have a great deal of expertise and are exceptionally well-placed to provide insight and guidance on how security can be measurably improved both in terms of both visitor – passenger throughput – and control integrity."