With an extremely vulnerable, high-density population, the area of Midtown in Atlanta, Georgia has security as its highest priority. Covering a vicinity of 400 blocks, Midtown includes three large MARTA rail stations, the Federal Reserve Bank, the Georgia Institute of Technology, and many other major businesses. Last spring, the city began a project in Midtown designed to heighten public safety and security with the implementation of outdoor IP video cameras.
"We have three primary needs in Midtown," says Col. Wayne A. Mock, public safety and homeland security director for Midtown Blue, a 24/7 public safety force consisting of off-duty police officers patrolling Midtown streets and sidewalks and augmenting Atlanta Police Department (APD) services. "They are public safety, traffic and transportation, and homeland security." Midtown Blue selected Vicon to be its vendor of choice for the video cameras.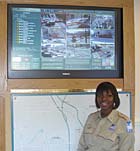 The Project
"We currently have ten cameras installed on buildings or utility poles," Mock says, with eleven more awaiting installation; however, there are plans that could expand the system beyond 100 cameras in strategic locations throughout the area. The cameras are monitored 24 hours a day, seven days a week by community policing specialists. "We look for public safety and homeland security issues. Our goal is to respond to them within two minutes." Mock first saw the concept of public cameras used in both Israel and London and was impressed. He brought this concept back with him to Atlanta. "He was impressed with the recording quality and real-time recording that those systems offered," says Mike Gibbs, a ViconNet Certified Installing Partner. "From a public safety or prosecutorial standpoint, real-time is like watching a DVD. There is no interruption between what you are seeing and what actually happens second by second."
Gibbs was given the task of duplicating, as best as possible, what Mock had seen abroad. He knew that Vicon's Kollector series and IP network cameras offer a real-time capability, without sacrificing the outstanding resolution and picture quality the Police Department demands.
Mock agrees. "We wanted a camera that had the lighting capability to have a clear picture at 3 a.m. on an overcast night. We wanted the ability to zoom in and be able to identify a suspect. We also wanted multiple frames per second on recording."
"The system seemed to be a superior system. There is an endless capability of what you can do, and the recording quality of these cameras in adverse conditions was unbelievable compared to other cameras we've looked at."
Installation Challenges
But installing cameras on a public street is not as simple as a self-contained project. "The whole system was a challenge because we took an innovative approach," Gibbs says. "Most camera systems are hard-wired, going back to the head-end located on-site. We have ten cameras installed and all are in remote locations. Some are mounted on telephone poles, some on the sides of buildings." In order to accomplish what they wanted to, they approached Bell South about going over its Ethernet network. "We used their router system to communicate to their Ethernet and run over Bell South back to Midtown Atlanta's head-end," Gibbs explains.
Another challenge was the topography of the city. "Atlanta is a hilly city with a lot of trees," Mock says. "On some cameras, the way they are mounted presents a unique problem. Out of ten cameras, each one is different in terms of coverage: one [camera] is covering 10-12 blocks, some are more restrictive. But none catch less than four blocks per camera."

The Results
The first cameras were installed last year. Mock says that the cameras have worked beautifully. Officers monitor and physically look at the cameras 24 hours a day. Additionally, the cameras are digitally recorded using Vicon's NVR and stored for 90 days. "We've made arrests for bank robbery suspects, quality of life issues and numerous cases of vehicles on the sidewalk," Mock says.
The cameras have also been used for homeland security issues, including cars on the sidewalk and people taking pictures of public buildings. In one case, some Georgia Tech students were taking pictures of the Federal Reserve building. Officers were dispatched immediately to see what was going on. When they found out it was for a class, the students were allowed to continue, but were told to contact the Federal Reserve in the future.
Cameras have also played a major role in providing evidence in civil hearings and in criminal proceedings. Gibbs describes the camera function as "absolutely awesome. "They are seeing the things they wanted to see and they are able to solve issues that they have never been able to solve before. They don't have to hunt for it; it's right there. The clarity of the video is impeccable.
"It gives them absolute evidence as to what those officers are dealing with on the street. It's like going to the video store and renting a video. Old technology had stop-gaps. But when you go to real-time recording, there is no question. You see every step, every hand movement that was made." Mock is pleased with the system and has plans to add on. "We fully intend to expand the current system within the complete district next year," Mock says. In fact, the current coverage is about 60-70 blocks of the Midtown area.
The goal is to have the complete Midtown district under cameras by the end of 2006. Mock estimates that will take somewhere between 35 and 40 cameras, and Gibbs says he wouldn't be surprised if the system were to grow beyond 100 cameras after the full capabilities are realized. "We looked at public safety and traffic issues," Mock says. "We wanted continuity on the main street that goes through Midtown. So we started in the middle, where the highest population is, and we're expanding outwards." Mock adds that the response to the cameras has been very positive. "I think one of the benefits we have realized is the perception of safety. We put a lot of cameras and signs up. The cameras are monitored openly. It's one thing to have a camera. It's another to make sure you monitor it 24/7 and respond in a reasonable amount of time to a problem a camera brings to your attention."