ProductRedux: Power over Ethernet Access Control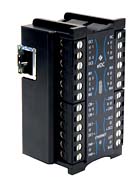 Integral Technologies' Intelli-M access control solution maximizes the full power of the Internet while supporting Power over Ethernet. Power and communications are delivered to the door controller via a single CAT 5/6 cable, providing power for door locks and readers' controllers. Accessible through any secure remote Internet connection, users can communicate with a single stand-alone door from a PC workstation anywhere in the world, without requiring additional software.
For free information circle 235 or visit www.secmag.com/webcard
Links


I want to hear from you. Tell me how we can improve.