3D Face Reader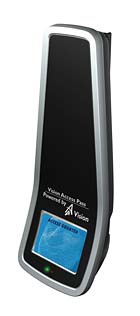 The Vision Access 3D face reader is used to control physical access to buildings and entrances. The reader was designed for quick and easy user positioning, which optimizes throughput at entrances. To accomplish this, an LCD and audio feedback have been integrated into the design. This makes it very simple for the user to get into the correct position for the reader to quickly capture the optimal image.
For free information circle 236 or visit www.secmag.com/webcard
Links


I want to hear from you. Tell me how we can improve.