Network Camera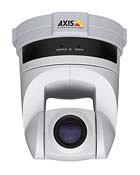 AXIS 214 PTZ Network Camera is a high performance camera for professional surveillance and remote monitoring. It combines a high-quality color video camera with the flexibility of remote pan/tilt/zoom operations. Incorporating an 18x optical motorized lens with auto focus, the AXIS 214 PTZ allows a user to zoom in on a small or distant object with exceptional clarity, and the movability of the camera enables it to cover a wide field of view.
For free information circle 266 or visit www.secmag.com/webcard
Links


I want to hear from you. Tell me how we can improve.