TACWAVES Portable Alerting System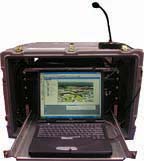 For temporary events, disaster relief, humanitarian missions, and tent city operations, MadahCom's TACWAVES (Tactical Wireless Audio Visual Emergency System) is a self-contained, portable alerting system that requires minimal operator set-up and can be rapidly deployed for emergency announcements. From From MadahCom, TACWAVES is a totally modular design and can be easily expanded to support any size deployment, humanitarian mission or temporary event.


I want to hear from you. Tell me how we can improve.