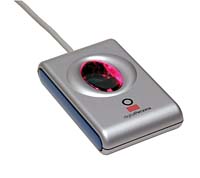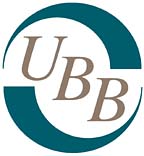 In his 1989 blockbuster, Back to the Future Part II, Steven Spielberg prophesized a number of futuristic inventions for scenes taking place in 2015. Shoelaces could tie themselves, the heroes traveled in a flying automobile, and Biff Tannen paid his cab fare by pressing his finger to a plate. Although tennis shoes still have laces and cars still need roads, fingerprint banking is no longer just science fiction.
One of the largest correspondent banks in the Federal Reserve's 9th District and encompassing more than 1,200 community banks, United Bankers' Bank (UBB) of Bloomington, Minn., is using fingerprint authorization to safeguard account information accessed by employees and customers.
Before implementation of biometric technology, UBB used a traditional computer passwords program as their primary authentication method for protecting confidential online data. Company security personnel were concerned that their current authentication system was a liability considering that the company's community banks initiated transactions, specifically the wiring of money, through its correspondent accounts. Passwords were vulnerable as they could be shared, written down or compromised. Efficiency was a consideration as well; UBB was experiencing a high volume of support calls from both internal employees and bank-client customers whose passwords had expired or were forgotten.


Biometric Solution
After researching various authentication options, including smart cards, tokens and biometric technologies, UBB chose a fingerprint authentication system from DigitalPersona of Redwood City, Calif. "We were looking for a system that provided a maximum level of protection, was easy to use and cost efficient. Not only has DigitalPersona's product fulfilled these requirements, but it has performed flawlessly," said UBB President William C. Rosacker.
Literally with the touch of a finger, the system could log in authorized UBB employees or customers without having to type in a password or account information. UBB also purchased DigitalPersona software to integrate their system with Active Directory, a standard network directory component of Microsoft Windows, to manage passwords from a central server.
The system was relatively easy to set up. Once installed on the company's network, UBB estimates that it took under three minutes per employee to get their staff registered; the old custom bank applications didn't need to be changed at all. Bank clients could log in online using a fingerprint instead of a password.
The fingerprint technology assures UBB that the person requesting a wire transfer, making ACH transactions, accessing bank statements or performing other confidential activities is the person authorized to do so. Passwords can be compromised, cards and tokens lost or stolen, whereas every customer and employee naturally possesses a unique passkey that's always with them.
Before fingerprint authentication, UBB's support staff had to reset employee passwords frequently, while correspondent bank customers and internal employees have commented that the fingerprint system is more convenient. "Our employees and customers really enjoy the ease of use," said UBB Senior Vice President of IT Gene Ekness, "I can't remember the last time we had a call into our Help Desk for a forgotten password." As for flying DeLoreans that travel through time, well, it might take a little longer than anticipated.


Sidebar: In the Bank
UBB chose a biometrics-based fingerprint system to eliminate the security vulnerabilities and inefficiency associated with employee and customer-driven password management. The ability to eliminate password sharing and authenticate transactions and account access performed by bank clients over the Internet is key.
Features include:
Heightened security internally and with UBB's bank clients – removes password vulnerabilities.

Improved convenience – employees quickly log in using their finger.

Reduced helpdesk costs – eliminates calls on password resets.