X-ray Screening System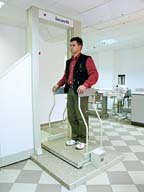 Security Intelligence Technologies Inc. launches the Terrorist Trap Digital Bodyscan, a special purpose digital x-ray scanning system intended for non-contact visual inspection of a person and to detect smuggled or dangerous materials. The Terrorist Trap Digital Bodyscan is a radiographic scanner of a full-size human body that detects and images dangerous and/or illegal objects made of both organic and non-organic materials, including weapons, narcotics or contraband concealed in clothing, hidden in natural cavities of the body or swallowed. The system irradiates subjects by a very narrow flat scanning X-ray beam and provides a visual image on the PC screen within 10 seconds. Security Intelligence Technologies Inc.
For More Information Circle 280


I want to hear from you. Tell me how we can improve.