Redesigned End Fittings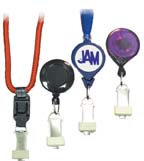 In 2002, J.A.M. Plastics, Anaheim, Calif., designed the first Card Clamp product that gripped ID and Prox cards without the need for a slot in the card – thus preventing damage to cards and saving users the expense and time of slotting countless cards. For 2005, the company has taken the original plastic card clamp and redesigned it with a metal casing to give it greater holding strength – now with over 10lbs of holding force.


I want to hear from you. Tell me how we can improve.