A handful of critical changes centering on what comes into a security command and control room as well as adjustments to the ways operators work are transforming the type and application of technical furniture.
Security systems integration, which dictates a diversity of reporting devices and communications tools, can create visual and physical operator stress, not to mention a fight over console and rack real estate. Digital security video has spurred the need for stronger, versatile racks to accommodate digital video recorders while, at the same time, newly designed consoles have rack spaces for LCD displays and even top panels for larger-yet LCD and Plasma screens.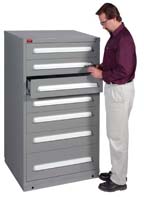 Touchpads integrated into some consoles make operator response faster, easier and more accurate. Rack and console manufacturers are now adding more space and cabinets to hold manuals, binders and maintenance documents. And, speaking of space, new designs now often have maintenance panels that are easier to access in those ever more crowded command and control centers. Some models boast a DIN rail connection system for wire management with user-determined connections in a reconfigurable snap-in modular system.
According to the interior design experts at Winsted, Minneapolis, there are four essential elements to today's technical furniture for security use: efficiency, ergonomics, modularity and aesthetics. One example is the firm's Eklipse advanced console system, which was designed to accentuate benefits of flat panel display technology now hot with many security executives. In addition to an internal filtered air supply and convention-based cooling for temperature control, the system features what Winsted calls "softwash lighting" as well as a desktop power and communications box.
Ergonomics, long an operator concern, are now better handled in offerings from a diversity of vendors. Positioning of keyboards and mice, the angle of work shelves and desktops and, especially, the angle and distance of monitor configurations all play a role in easing operator stress.
For racks, concerns often center on strength of the structure, equipment cooling requirements and easy access for system installation and maintenance. For maintenance, look for independent lift-off side panels, open tops and pedestals to facilitate wire management. There are other unique solutions. A few consoles now come with optional built-in rotating slide-out enclosures, for example.
Some technical furniture vendors offer in-house designers and end user software for arranging and rearranging the valuable but limited real estate. The goal: building and viewing a complete work environment prior to purchase.



Sidebar: Let the Public View, Too
As video surveillance has grown, system designers have been coming up with new ways to more efficiently use the captured images. One of the latest trends is incorporating public view monitors into a security system, says T.D. Clinton of Clinton Electronics, Loves Park, Ill.
There are several benefits to adding public view monitors to a surveillance system. For one, they help further deter theft by giving security video more of a public presence. Store entrances are not the only place public view is used today. High shrink areas such as meat aisles in supermarkets and power tool aisles in hardware stores are also good uses. Office lobbies, hospital waiting rooms and delivery docks are excellent sites for public view monitors.
Public view monitors are also being combined with switching devices that can be motion or alarm activated.