There is nothing more important to a parent than the safety and well being of their child, and across the country schools, churches, local communities and state and federal agencies are implementing policies and practices to help improve child safety measures. While many of these procedures involve old-fashioned common sense, there is a growing reliance on technology to provide a safe environment – like using security cameras on the streets, metal detectors in the schools or capturing and storing visitor information at public or private facilities. And these security precautions become even more valuable when integrated into an overall first alert plan.

Build on existing technology
Such is the case with the Parks and Recreation Department of the City of Santa Clara in California's Silicon Valley, which coordinates the leisure services for more than 107,000 local residents. PassagePoint visitor management software (STOPware, San Jose, Calif.) was installed at the city's Youth Activity Center (YAC) campus, including a 20,000 square foot facility, the skateboard park and Teen Center. A photo ID system was already in place and the new software, integrated with the ID system, gave the department the capability to immediately verify, capture and store all entry and exit information from the facilities into a single, unified system.
"Tracking our participants is important, especially when they are minors," said Rose Partolan, office manager for the Santa Clara YAC. "Parents want to know where their children are and with PassagePoint we are able to tell them immediately if the child is on site and which program he or she is checked into." It's been a series of continual upgrades at the center, as attendance grew and security became more essential. Originally, photo ID cards were produced manually (instant camera photo with information typed onto a card and then laminated) and when participants entered the facility, they surrendered their cards, which were then filed alphabetically in a box and returned when the participant exited. "The process was very labor intensive and not very efficient," said Partolan. As the volume of participants grew to over 1,500 in the database, with approximately 250 participants a day at the three facilities, the center took its next step by implementing a computer check-in ID system.



Improved control and access
With the new computerized system, registered participants were issued a card that included a barcode with a unique ID number. To gain entry to one of the three sites, one needed to simply swipe the card through the reader at one of the check-in points. Exiting was the reverse procedure of swiping the card at an exit point or by clicking on a participant's name and then clicking on the "Sign Out" button. In the event of a lost or forgotten card, participants could also be checked in manually by typing in a participant's name or unique ID number. "We invested a lot of money in this new card system and were very pleased with the results," said Partolan. "It sped up the entry process and allowed us better control in ensuring that only Santa Clara residents are using the facilities." Programs offered by the center include classes for babies, toddlers and preschoolers; after-school programs for elementary, middle and high school students; special events such as dances and live concerts for middle school and high school age participants; and summer camps.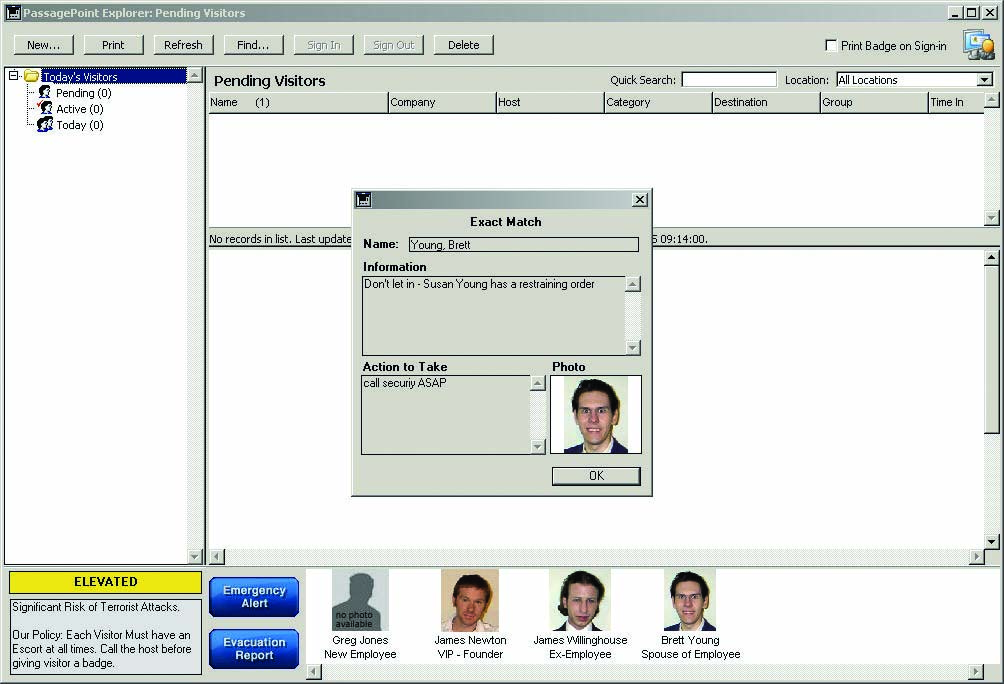 New software
While the computerized check-in system resolved the problems with entry and exit verification and sped up the process, it still did not allow for a recorded or historical audit of who was coming and going, when they did so, and why. "If a child was late in arriving home and a parent called and wanted to know what time their teenage daughter had left the Teen Center, we couldn't tell them because we didn't know," said Partolan. A phone call to Image Sales of Walnut Creek, Calif., and an authorized reseller of PassagePoint systems, provided Partolan with the remedy to this dilemma and even included a few extra benefits she and the administrative staff of Parks and Recreation were not expecting.
The company's integrated visitor management security software included badging, Web pre-registration, photo capturing, directory link integration and access control integration. "The compatibility is what sold us on the PassagePoint system because we did not want to redesign or replace our existing photo ID system," said Partolan. Using the barcoded ID cards already in place, each entry and exit by a participant would be verified, time-stamped and recorded in a database format. Because the three sites were networked, the center's staff could verify in real-time who was checked in at any given location. "We are able to tell parents if their child is currently on site, when and how many times they checked in," said Partolan, "as well as when and how many times they checked out."


Keeping track
As a community-funded facility, analysis and reporting are mandatory functions of the administration and management of the Santa Clara recreation site. Attendance information on programs, events and individuals is now reported monthly, and from this audit the center is able to assess the success of programs and more quickly respond to the needs of the community. "We installed PassagePoint because we needed a better method of tracking our participants. The customized reporting function is an added bonus that has benefited staff and participants alike."