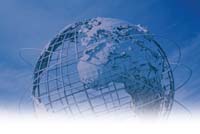 U.S. campuses contain a host of features and facilities that make them tempting, or "soft" targets for terror groups. Colleges and universities are home to research laboratories, stadiums and arenas, high-speed computer networks, high-rise residence halls, hospitals, water treatment and power plants, and even nuclear reactors – most of which are found on open, sprawling campuses designed and built without consideration of the threats posed by today's terror organizations.
To determine whether there has been a significant change in the approach to campus security since Sept. 11th – and to provide a yardstick against which campus security directors can measure their own efforts – FJC Security Services Inc. of New York commissioned a survey of security directors at campuses nationwide. Representing schools ranging from small community colleges to major universities, 90 respondents from at least 37 states participated.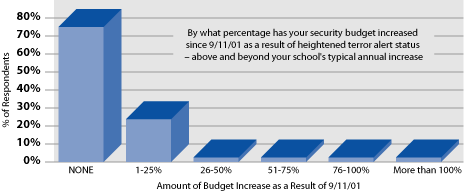 Money squeeze
One of the most significant challenges campus security directors face is in finding the resources necessary to sustain high levels of preparedness, as schools compete with countless other state and local entities for funds to combat terrorism. In fact, 74 percent of survey respondents said their budgets had not increased since Sept. 11 (above their typical annual increase), with only 4 percent seeing their budgets increased by 25 percent or more.
Another central challenge faced by campus law enforcement is in providing heightened security while preserving the openness, access and freedom of movement that are traditional hallmarks of institutions of higher learning.
While 85 percent of survey respondents characterized the relationship between students/faculty and their security officers as "good," 44 percent said they had encountered resistance on campus in implementing increased security measures. Such resistance can range widely, from administrations refusing to conduct background checks on students and employees, to researchers refusing to wear ID tags or lock the doors to labs containing dangerous materials or sensitive information. Over one-third of survey respondents indicated they had not increased security measures since Sept. 11 specifically for protecting dangerous or sensitive materials terror groups might want to acquire.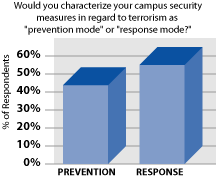 Steps toward prevention
While preventing a dedicated terror attack may be virtually impossible, even within the confines of limited funding, there are steps that can be taken to make a campus a less inviting target.
Short of the effective but often cost-prohibitive or controversial measures such as increasing patrols, surreptitiously gathering intelligence and installing equipment and barriers to monitor and limit access, some steps that can be taken to deter or prevent attacks include:
Establishing threat assessment teams to define the most vulnerable and/or desirable targets on campus, and strategically reallocating existing resources accordingly.
Clearly defining how the school should respond to each level of threat identified by the Department of Homeland Security (general recommendations on how to respond to the Homeland Security Advisory System can be found at www.nationalterroralert.com/overview.htm).
Establishing a working relationship with the supervisory agent in charge of the nearest FBI field office, the regional joint terrorism task force, as well as state and local officials to help ensure timely receipt of threat information.
Assigning officers as liaisons with international student groups on campus. (In addition to potentially eliciting unsolicited lifesaving information, the officer may serve to build trust and allay fears among international students.)
Educating the campus community on the importance of cooperating with established security measures, and of being vigilant in noticing and reporting suspicious behavior.


Outsourcing a solution
A qualified external security provider can be a valuable resource in helping campus security directors better define their vulnerabilities, and determine how to address them through a more effective and cost-efficient use of manpower, technology and other resources. Institutions that implement outsourced security personnel realize employee-related cost-savings by not having to pay for benefits, sick/vacation days and overtime. They also benefit from having a pool of well-trained, experienced officers on call at a moment's notice, to meet increased manpower needs associated with raised terror alerts or large campus events.
The bottom line is that college and university officials have a responsibility to implement all feasible measures to protect their students, faculty, staff and resources. Presented with the unprecedented security challenges, successful protection is reliant upon improved cooperation, communication and a more efficient use of available resources.