In Lake Charles, La., in an area known as Contraband Bayou, the $365 million L'Auberge du Lac Hotel & Casino (French for "inn on the lake") opened its doors in May 2005 under one of the largest fireworks displays in state history. Situated among the lush Western Louisiana marsh and lowland, the 30,000-sq. foot floating casino and 227-acre resort is fast becoming a premier gaming destination for Louisiana and Texas vacationers. Pinnacle Entertainment Inc. of Las Vegas opened the resort, which also owns and operates casinos in Nevada, Mississippi, Indiana and Argentina.
Operating and securing a resort like L'Auberge is compounded by its combination of water- and land-based structures. L'Auberge is the only single-level riverboat casino in Louisiana, the fourth state to approve riverboat casino gambling. Measuring 225 feet by 330 feet, it is actually the largest single-level riverboat casino in the entire country. The record-sized riverboat notwithstanding, the resort also includes a 26-story hotel, five award-winning restaurants, an array of top-notch retail shops, a full service spa and salon.
"What you see today is the end result of three years of hard work by thousands of people who helped to design, build and prepare L'Auberge for opening," said Daniel R. Lee, chairman and CEO of Pinnacle Entertainment. "Every detail was carefully considered, right down to the facility's state-of-the-art digital video security and surveillance system. In fact, L'Auberge is one of the first gaming facilities in the country to exclusively use digital technology for all surveillance operations."
Video surveillance in itself is not new to the gaming environment, but the implementation of an entirely digital surveillance system is just past the conception stage. While digital systems have been taking on more security roles in casinos, they have not, until recently, been practical for actual gaming surveillance, mostly because they could not provide the necessary real-time frame rates. Today's digital video recording solutions are rapidly achieving higher recording capacities with the frames-per-second/per-camera that is required for gaming surveillance.



Digital evolution
Pinnacle knew that it wanted a robust, flexible and reliable surveillance system that could be used as a security tool throughout the entire resort as well as for critical monitoring of gaming events. On top of these requirements, the system had to be able to seamlessly tie together both land- and water-based facilities, while providing sufficient bandwidth and failover protection for approximately 700 cameras. Following extensive due diligence, the company chose California-based AlphaPoint to design and deploy a digital surveillance system that would meet their specific requirements.
"AlphaPoint offered exactly what we were looking for in terms of application integration, system functionality and playback qualities," explained Darrin Hoke, the casino's surveillance director. "Their excellent engineering reputation and commitment to providing excellence in digital solutions made them our final choice."
Unlike many security organizations that market to government, industrial, education and healthcare, etc., the company specialized specifically in integrated digital surveillance solutions for casinos.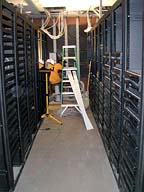 Emphasis on image quality
The casino required its surveillance to offer exceptional picture quality to distinguish face cards, suits and monetary denominations from long distances. It also had to support hundreds, if not thousands, of cameras, run 24/7/365, and integrate to business networks, POS, access control, slots and matrix switches. The company promised to deliver just that.
"Today's highly engineered digital video systems demand a unique combination of technical skills including IP networking, enterprise storage and security video application software," said the company's managing partner, John Katnic.
The company designed an enterprise class system for Pinnacle using 4CIF, MPEG-2 compression to insure optimum picture quality for regulatory and legal compliance for gaming environments. The scalable system would accommodate any number of cameras and interface seamlessly with other electronic systems.
"One of the reasons for choosing advanced digital video technology to enhance and protect this complex is our desire to be the best," said Hoke. "AlphaPoint designed a digital solution for Pinnacle that is scalable and therefore able to deal with the demands of an establishment of this size, which has the ability to easily integrate with other systems via open architecture and is capable of monitoring and recording high quality video from hundreds of cameras simultaneously. We found their solution was able to manage data more efficiently than any other we reviewed."


Lessons to learn
Digital technology has brought about significant changes and advancements in video surveillance beyond recording at higher frame rates. Gaming establishments are quickly realizing that correctly implemented digital surveillance systems can protect against customer fraud, employee misconduct and fraudulent claims arising from injury claims like slip and falls.
In the past, video surveillance was used primarily in post-event criminal proceedings. Today's systems can become crime prevention tools that may stop criminal activity before it happens by simply applying intelligent software to analyze and alert security operators of defined behaviors or activities, thereby providing additional business benefits that result in a better return on investment.
There are critical decisions to be made to insure successful operations of often-complex games and facilities at casinos. Programmed intelligence presents more than just security and surveillance to casino, hotel and resort management; it also provides information that can be instrumental in making important business decisions.
The security industry uses a wide variety of terms for systems with these abilities, including smart video, analytic video and intelligent video. Whatever term is used, intelligent video actually refers to the analysis and extraction of digitally recorded video information with specific reasoning attached for specific applications. It can refer to content management such as indexing and retrieval, and it can do things like recognize faces, read license plates or count people.
A people-counting feature was incorporated into the system used by L'Auberge along with other specific features. Automatically counting people within a defined area and providing information about the direction of movement generates accurate traffic information that can enable efficient staffing, better queue control and marketing data.
"We had a specific use for the people-counting solution that AlphaPoint created to determine the number of guests entering and exiting the casino," said Hoke. "We also needed a solution for our point-of-sale and they are currently working towards a large scale POS interface solution for all of our cash handling outlets."
The POS interface included the integration of all cash registers to video, allowing every transaction to be recalled with video-based, user-defined search criteria. For example, in the event that the casino discovered a counterfeit $100 bill within the day's cash, a data search for every cash transaction involving $100 or more could be recalled with associated video in seconds, allowing auditors to quickly review suspicious activity.