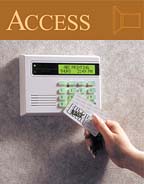 Keypads for door access control were among the early mechanical and then electronic security devices with pushbuttons first driving a door bolt, much like a combination lock. Over the years, the devices have evolved into flexible electronic and computer-controlled keypads. Today, advances center on dual technologies that bring together an electronic keypad with a proximity card, smart card or biometrics function.
There are hundreds of thousands of installed keypads, even in the face of nifty card access control systems. There are four primary reasons for the continued popularity of keypads:
They are easy to use;

Some keypads can complement mechanical keys and keyways in a smooth transition;

The keypad approach can have cost advantages over card access systems; and

As end users seek higher level security, keypads easily integrate with scrambling of the keypad numbers, proximity and smart cards as well as a diversity of biometrics.
An example of a standalone keypad comes from SDC Security Door Controls of Westlake Village, Calif. The firm's E70 - Stand-Alone Cylindrical Lockset comes in 64, 150, 300 and 512 user capabilities. Keypad or computer programmable, the E70 features a 1,600 event history, 150,000 cycle battery life, 9 management group levels, 90 user groups, unlimited time zones and 1,800 scheduled events. Programming and event history for 200 locksets is transferred between computer and lockset via a proprietary and secured infrared data transmission device.
The line of keypads from SDC shows the diversity of units, such as indoor and outdoor.
Branded by Securitron of Sparks, Nev., an ASSA ABLOY Group company, the SABL is a standalone battery lock that combines a keypad and keyway within a door handle.
In addition to its ScramblePad, Hirsch also offers ScrambleProx, a ScramblePad with a built-in proximity reader enabling a variety of card-plus-code applications, and ScrambleSmart, a ScramblePad with an integrated, hidden contactless smart card reader, for smart card applications.
Another firm, Branatec of Clifton, N.J., has caught attention with it rugged, versatile, good-looking units in the Everswitch line. With the success of its earlier Everswitch Prox, Barantec and HID of Irvine, Calif., then launched Everswitch iClass, a combination of Barantec's virtually indestructible metal keypad with HID's 13.56 MHz contactless smart card reader.
Keypads from Essex Electronics of Carpinteria, Calif., use what the firm calls a proprietary Billion Cycle Switch Technology. The piezoelectric pads outperform other keypads (membrane, conductive rubber, mechanical and even other piezoelectric keypads) in indoor, outdoor, harsh and high use applications, according to Essex. It's Essex 12 Pad 3x4 mounts to a U.S. single gang switchbox. And the Essex Dual Technology Keypad/Proximity Reader, called the PiezoProx, includes an HID industry standard proximity reader.
DMP Digital Monitoring Products of Springfield, Mo., boasts a large line of keypads for both commercial and residential applications that primarily control zoned burglar and fire alarm systems. Playing its technology strength, DMP has what it calls ePAD, a virtual keypad that enables users to control and monitor security systems from any computer browser via the Internet. This revolutionary technology operates as any other DMP LCD keypad.
From HID, its own iClass RK40 reader and RWK400 reader/writer can come with a keypad. The PIN can be verified at the access control panel or locally if the PIN is programmed into the iClass card.