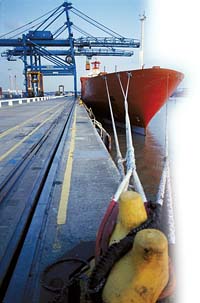 The war against terrorism is having a huge impact on the global maritime industry. In the United States, enactment of the Maritime Transportation Security Act (2002) and the subsequent promulgation of DHS/USCG regulations for ports, terminal facilities and vessels, will cost at least $10 billion over the next ten years. Other estimates of the cost of compliance run as high as $15 billion over ten years. Globally, the International Maritime Organization International Ship and Port Security (ISPS) Code of 2003 calls for similar port, terminal and ship security identification measures to be taken by all of its approximately 160 contracting government members.
Essentially, both the U.S. and international initiatives require ports, terminals and vessels to implement approved security plans that include physical security enhancements and a host of new security procedures. Such developments have opened up significant new opportunities for equipment/technology vendors and integrators. Those who can bring the most creative and cost effective solutions to the table will be able to contribute and benefit the most.
One integrator, ATC International Holdings, Inc. (ATCIH) of Miami, designed and implemented a state-of-the-art digital video surveillance system for the bustling and highly unique Port of Miami River.
The river winds its way inland through the city center for a distance of nearly six miles from the Port of Miami to near Miami International Airport. More than 20 cargo terminals on the river service shallow-draught ships that call on dozens of international ports throughout the Caribbean, Central and South America. In addition to the terrorist threat, stowaways and contraband represent significant security issues. The Coast Guard, Immigration and Customs Enforcement, DEA, City of Miami and Miami-Dade Police, and various other federal, state and local authorities share overall law enforcement and emergency response responsibilities along the river's length.
ATCIH brought together technology and equipment from Digital Imaging Infrared LLC (thermal imagery), Videolarm Inc. (high resolution PTZ cameras with infrared illuminators), Guardian Solutions Inc. (intelligent video software) and Cisco Systems Inc. (mobile access routers). The result was a system that allows authorities to monitor the entire river and its approaches. One agency has accepted primary monitoring responsibility, but the other agencies and authorities still share direct system interface capabilities. Moreover, the surveillance systems employed by the privately-owned terminals on the river are also fully interoperable with the river system. The system's wireless access capability agencies to electronically observe conditions and threats from their patrol vessels and vehicles. Implementation of such technology and the willingness of agencies within the jurisdictional hodgepodge of the Miami River to cooperate has enabled the ports along the bustling and at risk waterway to meet the new federal and international standards.